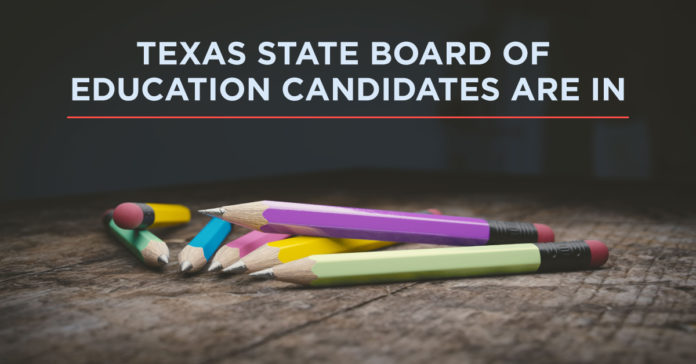 With the filing deadline for the March 3, 2020 primary over, Texans now know who is running for eight of the Texas State Board of Education seats in play for the March elections.

The Texas State Board of Education has a stewardship of nearly five and a half million students and is in charge of setting standards for all of Texas' public schools. Integral to the governance of public education, the Texas State Board of Education articulates the plan for Texas' public schools by implementing policies in the interest of Texas' children.

The jurisdiction of the 15 state board members allows them to set the statewide curriculum, qualifications for professional education personnel, and standards for school accreditation.

With many Republican representatives retiring, the political landscape within the Texas State Board of Education has the potential to see dramatic changes. Currently, the Republican party holds 10 seats while Democrats hold five.

Of the eight board seats up for re-election, seven are held by Republicans and the single Democratic seat up for election faces no opposition. This leaves the Republican party vulnerable to a giant shift in the makeup of the board, with four incumbents running for re-election.

Here is the complete list of candidates running for Texas State Board of Education in Texas: (candidates shown without links did not have a website or social media account at the time of publication)

State Board of Education 1:
Georgia Perez (D)- incumbent
State Board of Education 5:
Lani Popp (R)
Robert Morrow (R)
Inga Cotton (R)
Letti Bresnehan (D)
State Board of Education 6:
State Board of Education 8:
Audrey Young (R)
State Board of Education 9:
Kevin Ellis (R)- incumbent
Brenda Davis (D)
State Board of Education 10:
Tom Maynard (R)- incumbent
Stephen Wyman (D)
State Board of Education 14:
Sue Melton-Malone (R)- incumbent
Greg Alvord (D)
State Board of Education 15:
Jay Johnson (R)
John Betancourt (D)