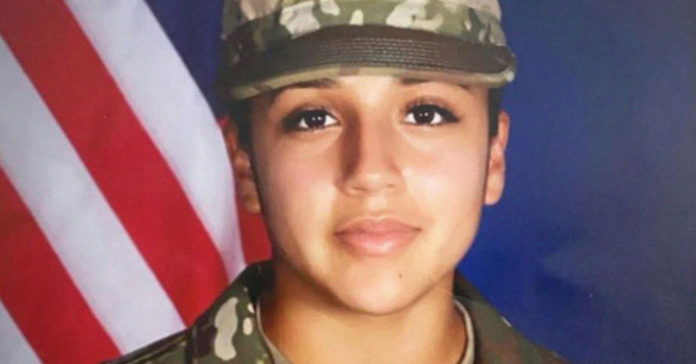 Vanessa Guillén, a U.S army soldier, was 20 years old when her remains were found two months after disappearing from the military base in Fort Hood, Texas.
Upon her disappearance, Vanessa's mother claimed her daughter had been sexually assaulted by one of her superiors but was afraid to come forward due to fear of retaliation and humiliation since other women who also experienced assaults were previously ignored.
The principal suspect of Vanessa's murder was her superior, Sargent Aaron David Robinson also a member of the U.S Army, who later killed himself before authorities could arrest him.
The second person involved in the case – and already arrested – is Cecily Aguilar, 22, accused of conspiring to conceal evidence.
Vanessa's case sparked outrage in social media, where women shared through the hashtag #IAMVanessaGuillén personal testimonies and collective frustration due to a lack of action and justice when experiencing sexual assault in the army.
After the events unfolded, Natalie Khawam, the lawyer who handled Vanessa's case, declared along with members of congress that they would seek to promote a law called "Vanessa Guillén" to investigate sexual harassment in the armed forces.
Months later, Senate Bill 623 also known as the "Vanessa Guillén Act" has passed the House, passed the Senate, and is now awaiting Governor action.
The Act, relating to the investigation and punishment of certain sexual offenses, to protective orders issued on the basis of certain sexual offenses, and to crime victims' compensation, would also establish a state sexual offense prevention program for the Texas Military Department.
"With the Vanessa Guillén Act, Texas can lead by example in protecting our Texas military members from sexual assault and ensure swift justice is delivered for victims," said Texas Sen. Cesar Blanco, who filed the bill.
As reported by Kxan, the day before the legislation was passed, a ceremony was held at Fort Hood to unveil a new access gate honoring Guillén, where her family attended saying they hoped the memorial would serve as a reminder of the sexual harassment they say she endured.
They will remind themselves: that if they know somebody going through the same situation my sister went through, to speak up, to tell someone" Said Lupe Guillén, Vanessa's sister.