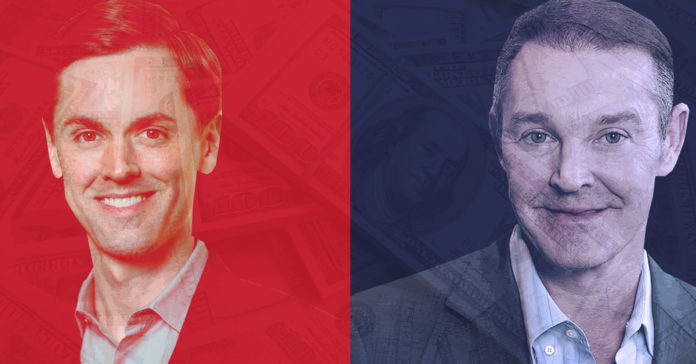 State Representative Mayes Middleton (R-Wallisville) raised over $300,000 according to the latest campaign finance reports. Democratic candidate Shawn Terry, who is running for Morgan Meyer's (R-Dallas) State House seat, brought in the second-highest fundraising haul with over $230,000. They both raised the most contributions of any candidate or incumbent of either party for a seat in the Legislature.

Due to a fundraising moratorium imposed on elected officials around the legislative session, the latest semi-annual campaign filing report covers just two weeks for current office-holders rather than the usual six months.

The $300,105 Middleton raised in the two-week period of the latest campaign finance report includes $300,000 that he loaned to himself. Middleton's office did not respond when reached for comment by the time of publication.

This is not new for Rep. Middleton, as he financed much of his successful 2018 run, where 83 percent of his over $2 million in contributions came from himself. The freshman lawmaker is currently president of the Middleton Oil Company and owns ranching, cattle, and farming operations in five different counties across Texas.

One candidate, Susan Criss, has filed to run in House District 23, which Middleton won in 2018 with a 15.1 margin. Criss was the Democratic candidate for District 23 in 2014 and was a Galveston County district judge of Texas District 212 before that. She raised nearly $24,000.

Shawn Terry, who ran a losing congressional bid in 1998 against then-incumbent Democrat Martin Frost, is an investment banker from Uptown Dallas. He is seeking the Democratic nomination for House District 108 challenging incumbent Morgan Meyer. Meyer won in 2018 by a close margin of 0.2 percentage points to Democrat Joanna Cattanach, who has also announced her run for 2020. Cattanach raised over $63,000 compared to Meyer who raised nearly $156,000 during the same period.

Terry told the Dallas News two weeks ago, "Hundreds of residents of my district are contributing to my campaign because they believe I'm the best candidate to represent their values…and the candidate most able to ensure we defeat the ineffective Republican incumbent."
Governor Greg Abbott brought in $12 million in contributions over the same two week period.
Update as of 5 pm: State Senator Dawn Buckingham's July campaign finance filing shows she raised the most out of any legislator: $405,900.