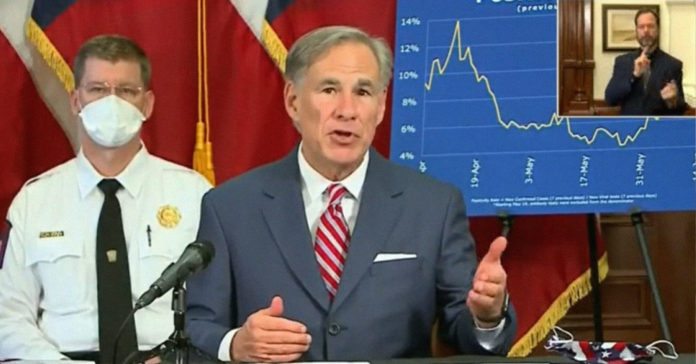 In his continuing round robin approach to media interviews, Gov. Greg Abbott was back on TV in Waco, El Paso and the Rio Grande Valley on Tuesday talking about COVID-19, the White House response to Texas' needs, local stay-home orders, the projected state budget shortfall and more.
On the subject of the state comptroller's projection of a $4.6 billion budget deficit, the governor said it is a challenge.
"It's a challenge we knew we were going to face as one of the consequences of COVID-19, and we are prepared for it," said Abbott during a live interview on KWTX in Waco. "That's why we have the Rainy Day Fund that we will be able to tap into if it remains that way."
Abbott, however, holds out hope that a vaccine will help turn the economy around and improve the state's budget outlook.
On KRGV in Weslaco, Abbott was asked about Hidalgo County's new shelter-at-home order that includes a curfew, travel restrictions and a requirement to use facial coverings when outdoors. Abbott is allowing local officials to enforce the curfew and mask portions of the order but not the requirement that everyone stay home. 
"There are parts of the orders which I have the complete latitude to enforce, such as the curfew," he said. "That is the authority that the local county judges always have been including right now, and it's my understanding that in Cameron and Hidalgo County, they intend to be enforcing curfews. That is one of the strategies to make sure they reduce the number of people out and about."
Because Abbott will not bend on allowing the stay-home order to be enforced, Hidalgo County Judge Richard F. Cortez is asking residents to voluntarily comply.
"Our rise in numbers and fatalities says that we need to take action now and do what's in the best interest of our community," Cortez said. "This action will help us do the right thing to save and protect each other from this deadly disease by sheltering at home."
Cortez' order remains in effect until Aug. 5.
The Rio Grande Valley has been so overwhelmed by new COVID-19 cases that area hotels are being used to quarantine recovering patients.
Abbott also spoke with KVIA in El Paso, where there is concern about a lack of personal protective equipment and swabs for testing.
"When we began the process of opening up Texas, the goal was to test about 30,000 people a day," said Abbott. "We are now currently testing more than double that — about 60,000 people a day — and as a result, there are more demands for more supplies, but our key demand to Washington D.C. is for Texas to get more of it and make sure El Paso will be receiving its share."
Abbott did not have a firm date for delivery of those new supplies, saying it could be this week or next.
Abbott declined to directly address a remark by one of his advisers that was critical of President Donald Trump's response to the coronavirus pandemic.
Adviser David Carney told the New York Times that "the president got bored with it," so Abbott regularly speaks with and directs his requests for any assistance to Vice President Mike Pence.
The Times article said Trump currently seems "less interested in the specific challenges the virus presents and is mostly just frustrated by the reality that it has not disappeared as he has predicted."
"Actually I spoke to the president for help on Sunday night, and he was very responsive," Abbott told KVIA when asked about Carney's comment, although he acknowledged that Pence is his main contact to go to at the White House.
Earlier in the pandemic, Abbott was holding media briefings that all Texas news outlets were able to access. In recent weeks, he has abandoned that practice in favor of a more exclusive approach to his media relations. Almost nightly, he is making himself available to specific TV stations for short interviews.