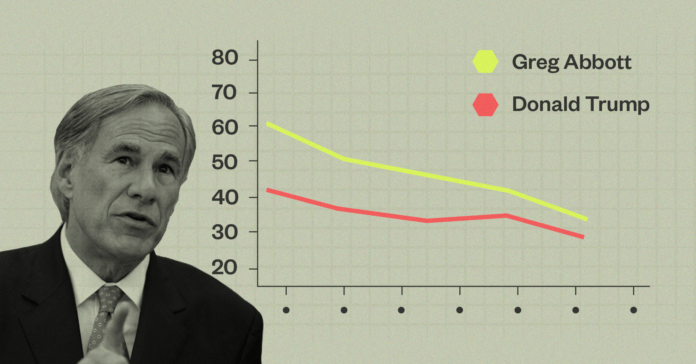 A new poll finds more and more Texans are dissatisfied with Gov. Greg Abbott's handling of the pandemic. The survey by Harvard, Northeastern, Rutgers and Northwestern universities puts Abbott's approval rating at 38%. That's a dramatic decline from the 61% approval rating he got during a similar poll in April.
The governor's numbers are now not that far off from President Donald Trump's approval rating.
"Some Republican governors of states that reopened early — and that have faced surges in COVID-19 — continue to see declining approval ratings, fairly closely mirroring President Trump's pandemic-related approval in those states," the researchers wrote in releasing the poll results. "Examples include Governor Abbott of Texas, whose management of the COVID-19 pandemic continues to suffer declining support in late July and is now approaching that of President Trump (38% for Abbott, compared to 32% for Trump)."
A Quinnipiac University poll released last week showed Abbott with a 48% approval rating.
Abbott moved to begin reopening Texas businesses before Memorial Day in May. He reversed course in June, closing bars and reducing restaurant capacity to 50%. Then in early July, he issued a statewide mask order. He has strongly rejected calls for another statewide shutdown, saying it would put more people out of work.
Although there remain hot spots, like the Rio Grande Valley, recent trends in cases and hospitalizations indicate a possible flattening of the state's COVID-19 curve. The daily numbers are still very high, but they are not increasing as they were earlier in July.