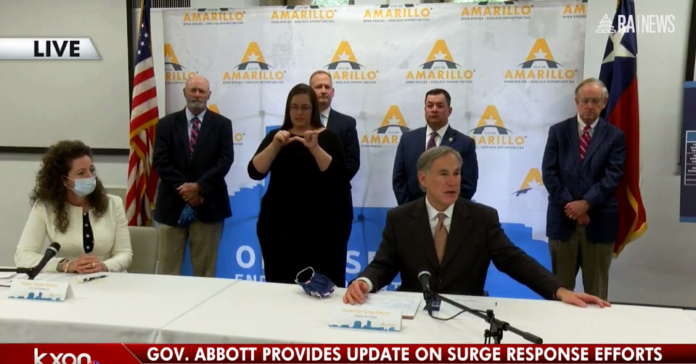 Wearing a mask in public for what is believed to be the first time, Gov. Greg Abbott traveled Wednesday to Amarillo for a news conference touting the success of his surge response teams.
Amarillo has been a hot spot for coronavirus because it is home to nursing homes, meat packing plants and prisons. Abbott said that since the town asked for help from the state in mid-May, testing for COVID-19 has about doubled. The number of positive cases peaked at 734 on May 16 and then began slowly declining. There have been no positive cases in the last two days.
Abbott said Amarillo has turned the corner.
"This is exactly what we have seen when we have deployed these surge response teams to other hot spot areas like this," said Abbott. "You see an early spike in the number of people testing positive, and then you see a slow decline in those testing positive that demonstrates that the hot spot area has been contained."
Amarillo Mayor Ginger Nelson said, "we needed help, we asked for help and help came."
Abbott does anticipate another spike in Amarillo as the results of increased testing at the local JBS meatpacking plant come back. He said there could also be another spike for the state as a whole or a resurgence of COVID-19 later in the year. He said the surge teams are preparing for that eventuality.
More than 60 surge response teams have gone to hot spots around the state to assist with testing, medical supply delivery and sanitation. The teams consist of local, state and federal resources, including fire fighters and the Texas National Guard.
After recording its highest one-day death toll about a week ago, the latest numbers from the state's COVID-19 tracking site show the fatality rate declining some over the last three days.
Early on, Abbott promised there would be 30,000 tests in Texas every day. The state has yet to hit that number on a consistent basis.
The percentage of people testing positive has dropped from a high of about 13% to 5.25% and the number of people hospitalized remains lower.
As of Wednesday, the total number of coronavirus cases in Texas is 57,921, including 1,562 deaths, according to the Department of State Health Services.