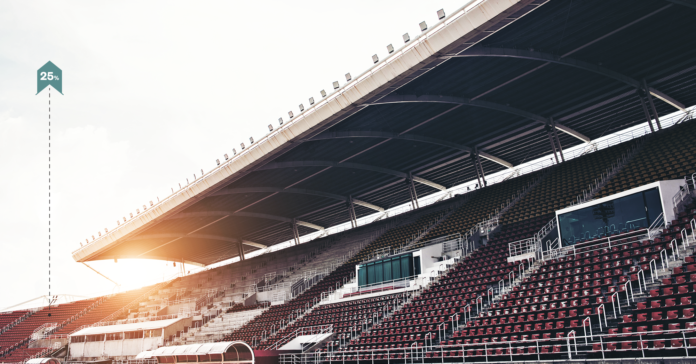 On the day that Texas recorded a new record for positive cases, Gov. Greg Abbott further loosened the state's COVID-19 restrictions to allow spectators at outdoor pro sporting events.
It sounds good for those eager to watch sports in person, but the reality is you will still be waiting because most pro sports organizations haven't resumed play, and they don't have outdoor venues. And of the few with outdoor seating that are reopening, most don't want fans back in seats yet.
Abbott's order allows outdoor stadiums to have spectators on hand as long as they do not exceed 25% of their normal seating capacity. Leagues will have to apply to state health officials to be allowed to have fans on site.
The order, which was not formally announced, came Thursday, the same day Texas recorded 1,855 new positive tests for coronavirus, the highest one-day total since the state began tracking coronavirus test results.
Those numbers, continuing unease among the public and a desire to have protocols in place before opening appear to be of more interest to sports operators than the increased flexibility Abbott is offering.
IndyCar will resume racing at the Texas Motor Speedway June 6, but the venue's management said it won't be open to spectators.
"Nobody wants to have the stands filled with fans more than me, but we're just not in a position to do that yet," track president Eddie Gossage said in a written statement to the Associated Press. "While the state will permit us to operate at 25 percent of capacity, there are still too many unanswered questions for an event that is just one week away."
The June 6 race will be available to watch on NBC.
The PGA has a tournament scheduled at Colonial Golf Course in Fort Worth in June, but unless the PGA changes its mind, there will be no fans watching from along the fairways.
Texas' Major League Baseball teams — the Houston Astros and the Texas Rangers — play in indoor venues. Even so, there is no agreement between management and the players union on what a 2020 season might look like, should there be one.
Dallas Mavericks owner Mark Cuban is optimistic that the NBA season will resume soon, but it hasn't happened yet. The governor's new order wouldn't apply anyway because the NBA plays indoors.  
One sport that is taking Abbott up on his offer to have spectators present is horse racing. Sam Houston Park in Houston will reopen for simulcast racing starting Wednesday. A notice on the park's website indicates the reopening will be under the COVID-19 guidelines established by the governor, Harris County and the Centers for Disease Control and Prevention.