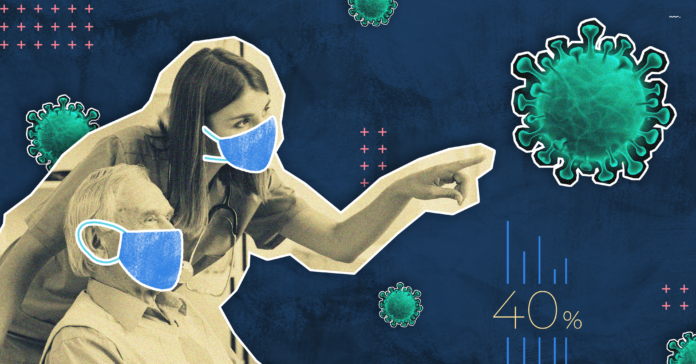 Despite Gov. Greg Abbott's decision to begin opening up more of the state starting Friday, the threat of the novel coronavirus still lingers for Texans living in nursing homes.
Since Reform Austin previously reported on the subject earlier this month, there have been more outbreaks at care facilities across the state.
The Texas Health and Human Services Commission has confirmed that there have been 231 resident coronavirus deaths related to nursing homes and another 59 deaths at assisted living centers. The combined 290 people represents 44% of the state's 663 COVID-19 deaths.
Based on these calculations, nearly half of the state's COVID-19 deaths are linked to long-term care facilities. Roughly 93,000 Texans live in licensed nursing homes across the state.
Most recently in Texas, 46 people tested positive for coronavirus at a Round Rock nursing home with another large outbreak later reported at a Paris, Texas nursing home.
Earlier in April, 56 patients and 33 staffers at a Texas City nursing home tested positive for COVID-19. This was the nursing home at which patients were given hydroxychloroquine, an experimental and controversial drug touted by President Donald Trump as a potential cure for the virus.
Dr. Robin Armstrong combined the hydroxychloroquine, which is used to treat malaria and lupus, with azithromycin and Zinc, then monitored the patients daily. Armstrong told Fox 26 in Houston this week that one patient at his facility died, but everyone who got on the experimental treatment is doing fine. 
In a briefing for reporters Monday, Abbott said the vulnerability of those 65 and older is still of concern.
"As we go into phase one [of reopening Texas' economy], the most important element of phase one is protecting our most vulnerable Texans. People aged 65 and older represent just over 20 percent of the patients who test positive for COVID-19, but more than 75 percent of deaths represent those 65 and older," Abbott said.
"If we redouble our efforts to protect our most vulnerable senior citizens, we can reduce COVID-19 deaths while also expanding business operations and increasing the number of Texans re-entering the workforce."
Although he did not provide details, Abbott said the state will be implementing "better infectious disease protocols at senior living centers."
In a post on Facebook, Mayor of Paris, Texas Steve Clifford described the risk in his community. 
"This virus has seemed distant to most people in our community. It was happening elsewhere, but we in Paris really had not had any significant problem with it," the mayor wrote. "We all figured that everything was overstated and overblown. Many decided that they didn't even need to wear masks. Now we know that many people who were infected with the virus and had no symptoms have been in numerous public places throughout our community."