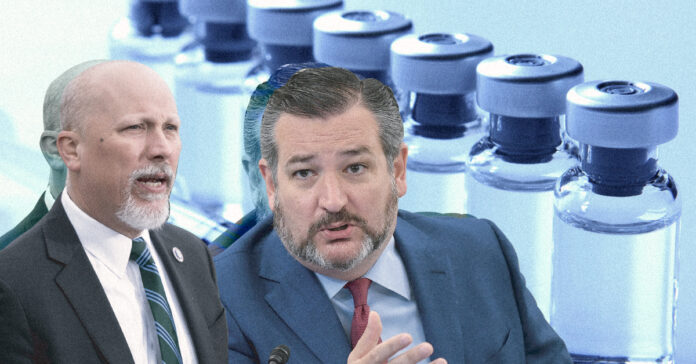 While President Joe Biden attempts to pass a short-term funding bill to fight COVID, Texas Republicans throw a fit over his vaccine mandates.
Four Senate Republicans are again threatening a government shutdown and have signed a letter led by Rep. Chip Roy, refusing to support any bills funding the federal government that include money for the enforcement of COVID-19 vaccine mandates, as reported by The Houston Chronicle.
Among them is Sen. Ted Cruz, who has also signed a separate letter with six Senate Republicans demanding a vote on an amendment to strip funding from the mandates.
The letter quotes a Frederick Douglass speech opposing slavery: "The limits of tyrants are prescribed by the endurance of those whom they oppress."

"History will bear record of whether we chose to endure tyranny, or oppose it, in this pivotal moment," it says.

In spite of the objections, the House passed a short-term funding bill, which must pass the Senate by Friday to avert a government shutdown.
Roy has sought to pressure the GOP through a social media campaign, demanding to "#DefundVaxMandates" and "#DefundTyranny."

In an interview with Hearst Newspaper, Roy said he believes Republicans need to oppose vaccine mandates more forcefully, especially if they plan to regain control of Congress in the midterm elections.

"There are dozens or hundreds of constituents I represent who are facing — in the United States of America — getting fired for a health choice they're making," Roy said. "Not one Republican should be given a hall pass that they're standing up for freedom or standing up against vaccine mandates if they support this garbage."
According to The Houston Chronicle, it is unlikely that Roy and Cruz will garner much more support than last time they tried to derail a funding bill over the vaccine mandates – the bill was passed on a 69-28 vote.