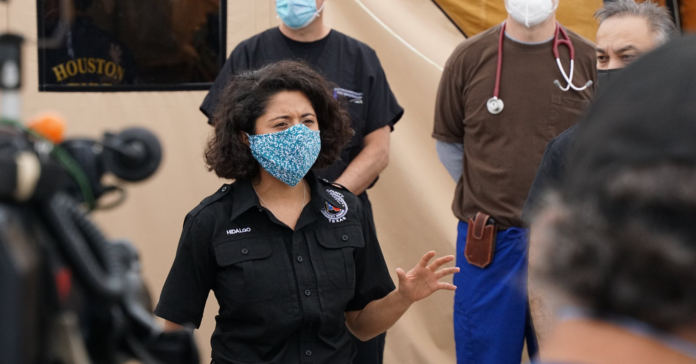 The criticism of Harris County Judge Lina Hidalgo's new mandatory mask order came swiftly, was harsh and appeared to land along political party lines. Hidalgo wasn't the first to require residents to wear masks while out in public, but she is the only one to be sued for doing it.
Steve Hotze, the same ultra-conservative who sued Hidalgo for her stay-home order, has now filed a lawsuit over the mask order she issued Wednesday. In his latest claim, Hotze alleges Hidalgo is violating the Texas Constitution.
"In Judge Hidalgo's Harris County, the heavy hand of local government will fine individuals who refuse to wear a mask, fail to wash their hands, get within six feet of another, or inadvertently touch their face," the lawsuit reads. "The rights we enjoy under the Texas Constitution are being trampled on by Judge Hidalgo, while millions of individuals have lost their jobs and thousands of businesses are on the brink of bankruptcy. If Judge Hidalgo's Order is not declared unconstitutional and void, once this virus passes, the rights we are afforded under the Texas Constitution will be forever damaged."
Harris County is the last major metropolitan area in the state to impose a mandatory mask requirement on its residents. Laredo was the first in the state to require it. Austin, Dallas and San Antonio later followed.
There was no outcry when the other cities acted, but there has been no shortage of criticism since Hidalgo announced her decision yesterday. In addition to Hotze's lawsuit, Lt. Gov. Dan Patrick, several Republican state lawmakers, the head of the Harris County Republican Party and the Houston Police Officers Union have blasted Hidalgo, calling the order "ridiculous," "irresponsible" and a "power grab."
The situation has led to some heated discussion on social media. One person noted on Twitter, "There was not even a whisper from the fringe Right when Judge (Sarah) Eckhardt did the same thing in Travis County."
Another person questioned whether everyone was piling on Hidalgo because she is young and a woman. The mayors in the other Texas cities where similar orders are in place are all men.
And yet another called it "pure politics."
Texas Attorney General Ken Paxton waded into the fray with a news release issued in response to the Houston police union's request for an opinion on the legality of Hidalgo's order.
"While health and safety guidelines are important to slow the spread of COVID-19, officers should use discretion as they carry out the functions of their sworn duty and focus on dangerous criminals who pose a serious risk to their community," Paxton said.
Although the issue is now headed to the courts due to Hotze's lawsuit, others have already decided that Hidalgo's order is legal. According to the Texas District and County Attorneys Association, it is permissible under state law. The Harris County Attorney's office says the same thing.
For her part, Hidalgo has brushed aside the critics, saying people are entitled to their opinions.