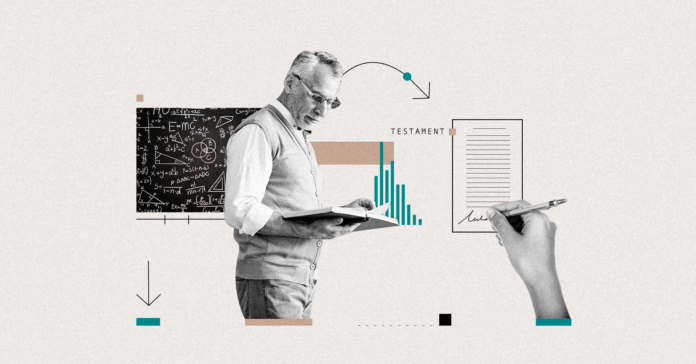 The pandemic may have many people thinking about mortality — especially essential workers such as teachers. One way of coping with COVID-19-related anxieties is by making a will.
"The COVID-19 pandemic has plunged our global society into a grief response. Collectively, we are grieving the loss of our pre-pandemic life, and some are grieving actual losses or illnesses of loved ones or struggling with their personal health issues," said Dr. Anka A. Vujanovic, associate professor and director of graduate education director at the Trauma and Stress Studies Center in the University of Houston's Department of Psychology.
Lorena Watson, a psychology lecturer at Texas State University and a psychotherapist explained some ways people are reacting.
"During the time of COVID-19, many can find themselves wondering how they would recover or if they'd survive the illness caused by the coronavirus. For some, this can cause anxious energy that draws people to do something and not passively meet their death. For others, it is paralyzing and can really impair everyday functioning," Watson said. "It is likely that the former group of people would try to do all in their power to actively prepare for their death while they are alive and able to act. A will is a way to get things in order so that their death does not catalyze chaos with all that any individual might be leaving behind. Writing their wills is an act that can help alleviate some anxiety they are facing during a very uncertain time."
Cost
The cost of creating a will varies, but on average, they cost $1,000 – $3,000.
Houston-based Attorney David Nguyen said a will ceremony costs more but ensures that the will is legally enforceable because it requires the testator to sign the will before two disinterested witnesses and a public notary at the same time. This helps to ensure that anyone who contests the will in the future would have a difficult time doing so.
Why it is Important
According to a poll by Caring.com, 52 percent of people age 55 and older don't have a will or other planning documents that could be helpful during the pandemic.
But wills are for people of all ages, and waiting to make one can be problematic.
A will is a legal document that is a plan for what happens to your property, estate, and your remains after your death. Along with who will care for your children or pets after your death, it can also involve your wishes for your funeral or burial or cremation plans.
Even if you don't think you have a lot of money, it is still important to have a will. You also never know what the future will hold, and down the line, you could have more property, said clinical professor Janet Heppard, who is also the Director of the Law Center's Civil Practice Clinic and Clinical Legal Education Program, on the phone on Wednesday.
Preparing
"Generally, a person that is interested in preparing for a will should gather the following documents and/or information related to their assets. For example, bank accounts, insurance policies, bonds, stocks, certificates of deposit, mutual funds, 401(k), IRAs, real estate, vehicles, business equipment/machinery/supplies, artwork, collectibles and jewelry," said Nguyen. "Additionally, people commonly overlook the need to review their prior estate planning documents for example prior wills, trusts, power of attorney, burial plans and burial insurance."
Online Wills
Heppard said going online to make a will can be a risk.
"It is helpful to go to an attorney because the attorney will make sure it is executed correctly," said Heppard, who also expressed the importance of understanding how a will works in real life.
Nguyen agrees.
"A person who is interested in having a will drafted should speak to an attorney that is licensed in their state. Each state has different laws as it pertains to wills and estate planning. Going online is dangerous since wills and estate planning laws vary from state to state," he said.
What If I'm Healthy?
"Death does not discriminate based on age or any other immutable characteristic," said Nguyen. "This means that a will is important for someone in their 20s as well as the elderly. A will ensures that when you die, your loved ones can mourn without worrying about a costly, lengthy, and potentially contentious probate process to distribute your estate."
"People tend to put off drafting a will because they don't want to think about death or falsely believe that having a will increases their likelihood of dying," he said.
"No one wants to think about how they will die. We ere very sensitive to that, we are all going to die sometime," Heppard said.
Heppard said it is important to designate a power of attorney for health care and your financials, so it is clear who can make medical decisions for you and who can talk to doctors.
Property
Not preparing a will can also cause problems for the estate left behind. Nguyen shared a story to explain.
"A few years ago, we represented a large family, whose widowed mother died intestate. When the mother was alive, she did not prepare a will, which ended up causing a lot of issues for her surviving family members. After she died, the family hired an attorney. A few months later, the first attorney refers the case to the second attorney. After hiring the second attorney, the second attorney passes away unexpectedly. Approximately four years after their mother's death, one of the family members reached out to our office for help."
Nguyen said the lengthy probate process was an emotional rollercoaster for the family and it destroyed familial bonds that could have been prevented if the deceased had a will.
If your parents died and nothing was ever done about the ownership of their property or home, and then if the property gets damaged, it will be more difficult to fix it, explained Heppard on the phone.
Also, if you move, or arrive in Texas from another state, Heppard suggests making a new will in the state you are in.
These days there can be transfer on death of deeds for cars. Learn more about those here.
Make sure you choose a trustworthy person as your executor.
If there are specific items you want to give a loved one to inherit after you pass away, if possible give it to them now, Heppard advises. You really don't know what will happen to the jewelry or other object you wanted someone to have after your death.
Children
When it comes to those planning a will for parents who have minor children, Silverman Law Firm's blog says that the two main estate planning concerns are who will take custody of the children in the event both parents pass, and who will manage their finances until the minors come of age.
You might not think about planning a will while planning a baby shower, but you might want to.
"Individuals with minor or disabled children, individuals with debt, individuals with property, unmarried couples, and blended families should consider getting a will immediately," Nguyen said.
"Parents with minor or disabled children can indicate in a will who they want to become the guardians of their children, if they become incapacitated or unable to make decisions. People with property can devise their property according to their free will and volition. Unmarried couples can choose to leave their estate to their loved ones and not their next of kin, spouse, children, or whoever the government feels should be automatically entitled to their estate," Nguyen explained.
It is important to designate a guardian and to have a living will in case you wind up on your last breath — especially now, Heppard said.
During the Pandemic
"We are noticing an increase in the number of people inquiring about wills. Unfortunately, due to COVID-19 concerns, many firms are limiting in-person meetings, which hurts those that do not have access to electronic modes of communication or require a will ceremony," Nguyen said.
Heppard agreed there has been an increase since the pandemic started.
Emotions of grief can be running at an all-time speed, Vujanovic said. The pandemic has created multiple levels of grief superimposed on a prolonged period of uncertainty and inconsistency of information across time, locations and sources. Unpredictable and uncertain times often elicit our strong need to maintain order and perceived control."
Vujanovic said teachers are no exception.
"Teachers may be experiencing the return to the school context during a surge and before the pandemic is contained at the community level as high-risk and high-stress," she said.
"Preparing wills and end-of-life plans at this stage may represent an attempt by those teachers to protect loved ones, to create perceived control or order during high-risk and high unpredictability times," Vujanovic added. "For our society, this is a red flag that our teachers are scared, literally for their lives and the lives of their loved ones and students. Some might be interpreting the return as an inevitable confrontation with a deadly virus. Are we doing enough to keep our teachers safe?"
"Everybody is thinking about it now. Now even more," said Heppard.