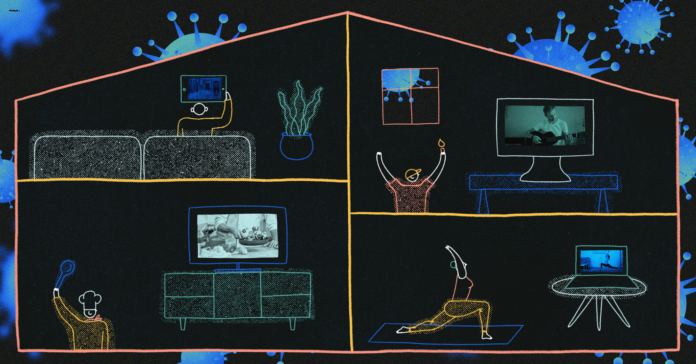 While Texans are homebound because of COVID-19, a digital revolution is happening. No matter your personal interests, they probably have gone digital.

Perhaps you have set up a FaceTime meet-up with your friends or a group yoga session or cooking dinner together at the same time while sharing tips. The coronavirus crisis is allowing us to engage in new ways and to stay connected — and it works. Here are a handful of suggestions to beat cabin fever this week.

Concerts in Texas Have Become Virtual

While there are worries that the coronavirus pandemic will lead to music venue closures, last week Willie Nelson brought the state together for a virtual concert. The whole country took notice amid the coronavirus pandemic.

Rodeo Houston's closure meant many country fans lost the opportunity to see their favorite musicians, but some are doing virtual concerts for fans. In Houston, the radio station The Bull 100.3 has been hosting virtual concert series, and Garth Brooks will perform live on Facebook at 6 p.m.today, Monday. Here are more details about tuning in.

Texas Monthly has a great list of live streaming shows you can enjoy from the comfort of your home. Ever since the cancellation of SXSW, Texas Monthly reports, "musicians are moving to social media and digital platforms to live stream concerts from their homes, empty venues, or wherever they can." Here's the list. Most live streams are free but kindly ask for a donation or tip for a charity or nonprofit organization.

Need to shake off some feelings? A DJ from Austin is one of many hosting a living room dance party.

If you are new to live streaming, it's amazing how connected you can feel when everyone else is also going through the same at-home experience and jamming to the same song.

The Arts

The New Yorker has a heartbreaking piece about how the lights went out on Broadway and how the arts are financially doomed from this epidemic. The time is now to donate to these special and important organizations before they go dark.

Ticket holders are encouraged to donate them to the organizations because refunds mean less money for the struggling arts groups, the San Antonio Express-News reported.

With everything canceled, for now, you may enjoy this list of live streaming events — concerts, dance, opera, and museum tours. You can watch your favorite musicals now at Playbill.com, Texas Public Radio reported. And San Antonio's own Nina Diaz has an NPR Tiny Desk Concert you can watch here.

Also for theater lovers, this past weekend Kristen Chenowith belted it out in her bathroom for her fans. You can catch other broadway stars daily at www.starsinthehouse.com.
Fitness

Your gym may be closed, but some gyms are offering virtual classes. YouTube has a ton of videos, too.

Through Zoom some classes involve an interactive element where the trainers can see you working out and give you tips and advice in real time, KVUE reported. The Little Gym in South Austin is offering videos for kids' workouts.

In Houston, Houston CityBook magazine shares a fabulous list of yoga studios that have gone digital. Black Swan Yoga has livestream yoga and online yoga to check out. Facebook live workouts and livestream sweating are catching on quickly as fitness centers in cities big and small are adapting to the digital demand in response to COVID-19. Also, D Magazine in Dallas and PaperCity share lists of fitness centers that have gone digital in a matter of days to keep their customers moving while at home.

Cooking Classes

Restaurants and food markets are reeling from COVID-19's impact, but some restaurants in Austin are hosting virtual cooking classes, happy hours and tastings.

For those with kiddos, Delish.com is hosting virtual cooking classes for kids. Connect on Instagram every weekday at noon Central time.

There's something for everyone when we all lean into the digital world to connect.