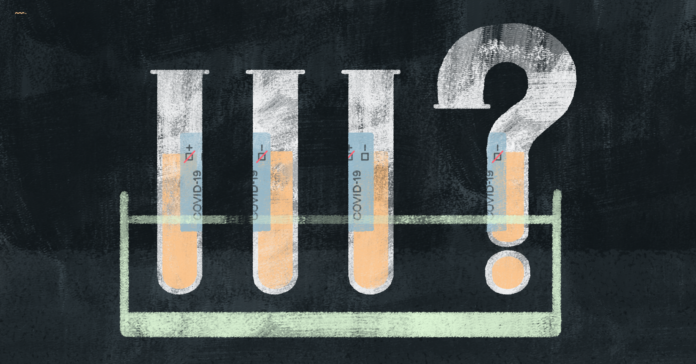 The increased testing and contact tracing Gov. Greg Abbott has included in his reopen Texas plan are probably not enough to safely and effectively track COVID-19.
Texas already lags behind much of the rest of the nation when it comes to testing per capita (roughly 1 percent of the population), and initial testing is really only the beginning. Once a person has been confirmed to have the coronavirus, tracing everyone that person has come into contact with must occur. That is a herculean task in a state of almost 29 million people.
About 800 people in various health departments around the state are conducting contact tracing, according to the Texas Department of State Health Services. Estimates of how many we will ultimately need vary widely, but all agree it is far more than we have now.
Across the globe, governments are on a hiring spree to find and train contact tracers. The Centers for Disease Control and Prevention is planning for hundreds more. San Francisco has recruited 150 volunteers to make phone calls and compile movement patterns. Ireland, a country that ranks just ahead of the U.S., Switzerland, and Sweden in number of coronavirus deaths per million people, is redistributing a thousand furloughed workers for the cause. 
The governor's open Texas report includes ramping up testing and contact tracing around the state. As Reform Austin reported, the plan calls for 1,000 contact tracers to be hired and on the job this week. By May 11, there should be 4,000 people working on contact tracing as well as a state-run call center and applications to be used in all Texas medical establishments.
"As Texas opens and individuals return to work, it is imperative that public health authorities identify not only those who are ill with COVID-19 but also those individuals who have come in contact with a person who is ill," Abbott's report reads. "This contact tracing allows public health authorities to identify individuals who are also ill and who may not realize their symptoms are COVID-19-related, and others who are not symptomatic but need to be educated on how to monitor for symptoms and isolate if symptoms occur. Testing identifies individuals who need to isolate. Contact tracing is a core function of public health. Coordination between state and local public health officials is fundamental to contact tracing success. This ongoing pattern will box in the disease and will slow and can even stop further spread."
The hiring is good news after the massive unemployment spike that Texas experienced following the start of the pandemic. With well over 1.5 million Texans out of work, any new hiring is cause for celebration, but many believe it is far from where we need to be.
One of those people is Dr. John Carlo, the former medical director for the Dallas County health department. He points to the Works Progress Administration, created in the 1930s to rebuild the nation's infrastructure and provide jobs and income to the unemployed during the Great Depression, as an example of what is needed now.
"There is going to be a need for a community mobilization to help those in need who are just going to struggle from this," Carlo told the Dallas Morning News. "We're going to need boots on the ground. It is going to be like a WPA. It's going to be about putting people to work." 
Texas' highest daily testing tally has been around 20,000, according to the COVID Tracking Project. There are projections that indicate we should be testing as many as 40,000 people a day.
Dr. Mark McClellan, former head of the U.S. Food and Drug Administration and an advisor to Abbott, said we should be testing at five times the current rate, or more than 750,000 people a day across the country.
One reason we are having to scramble to put in place all the testing and contact tracing fighting this pandemic requires is the state of America's health care workforce, which has been on a steady decline for more than a decade.
In 2008, the Association of Schools and Programs in Public Health warned, "By 2020, the nation will be facing a shortfall of more than 250,000 public health workers, according to [our] estimates. Shortages of public health physicians, public health nurses, epidemiologists, health care educators, and administrators are anticipated." They also pointed out that America had less health care workers in 2000 than in 1980 despite a significant population increase. 
The lack of state spending on the problem is also a problem, particularly in Texas. In 2009, the Robert Wood Johnson Foundation ranked Texas 42nd in all health care spending in state budgets. In that same time frame, 51,000 public health jobs were lost in the Great Recession and were never recovered, leading to an overworked and underpaid public health force in 2020 when they are needed most.
While debate rages over whether we will have enough boots on the ground, only time and the progression or suppression of the virus will prove who is right.