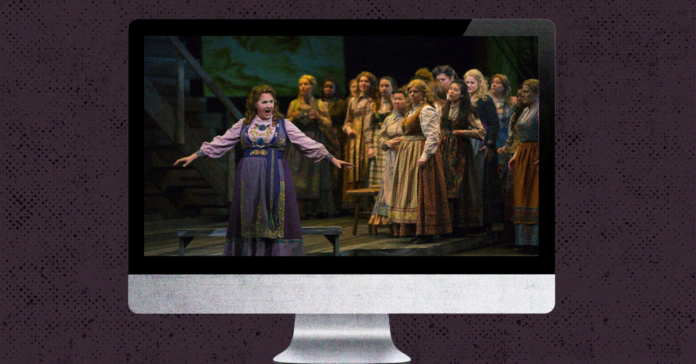 Throughout Texas, arts organizations have shut their doors for the time being in response to COVID-19 and social distancing. Here is how you can still enjoy their work from the comfort of your home. Your family members may still ask you to silence your phone.
Houston
Tune into the Houston Symphony via Houston Public Media or online right here. Their archive basically turns your living room into Jones Hall. This week, John Mangum, executive director and CEO of the Houston Symphony, gave an update on YouTube.
Check out Houston Ballet at Home on the company's Facebook page and support its relief fund.
Alley Theatre ticket holders and those who donated the value of their tickets back to the theater can watch a filmed performance of "1984."
Austin
The Austin Opera House has gone virtual, and every Friday you can watch new segments of Inside Indy Terrace.
The Austin Chamber Music Center has a new virtual channel on YouTube.
You can work out with Ballet Austin dancers.
Donate to the new project from Austin Creative Alliance, the Artists Emergency Relief Fund, then check out Texas Performing Arts at the University of Texas at Austin's Facebook page for a Broadway fix.
Also, you can watch livestreams from UT's Butler School of Music Bates Recital Hall.
San Antonio
The San Antonio Symphony canceled all seven of its remaining classics programs along with the remaining pops concerts. The symphony musicians were able to produce an impressive collaboration remotely. Each recorded themselves while performing the "Nimrod" theme from British composer Edward Elgar's "Enigma" Variations. You can watch it here on YouTube.
Steve Peterson, principal trombone for the San Antonio Symphony, said that staying busy by working on personal music is a way to remain positive, Texas Public Radio reported.
Mayor Ron Nirenberg said the San Antonio Arts Agency funding program was cut by 20 percent because of a loss of hotel occupancy tax, which keeps the program alive, KSAT reported Thursday. Arts agencies will not receive funds for the rest of the year, according to the San Antonio Express-News.
Dallas-Fort Worth
The Texas Ballet Theater launched a new virtual series this week called Poolside Chat. The first episode is about choreographing "Cinderella."
The Dallas Symphony Orchestra has extended its performance cancelations until May 24. In the meantime, check out its watch + listen page here.
You can still enjoy music through the Fort Worth Symphony's virtual Music Lab, where you can listen to archival recordings. There is also a Learning Lab for kids and a Sharing Lab and a young artist competition coming up at the end of April through Zoom.
The Fort Worth Opera's 2020 festival is canceled, but you can enjoy two previous productions on YouTube and on FWO's Facebook page.
Farm Aid
For those upset that other venues are closed and concerts are canceled, there is a bright spot.
Willie Nelson will be hosting a Farm Aid event this weekend along with Neil Young, Dave Matthews and John Mellencamp. The concert starts at 7 p.m. tonight, The Dallas Morning News reported. "At Home With Farm Aid" will air at farmaid.org, the concert benefits farmers affected by COVID-19.