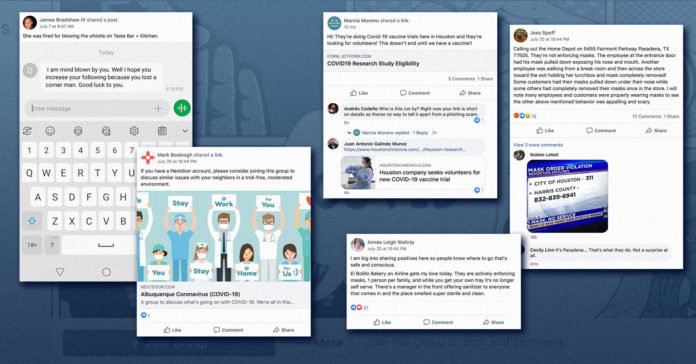 Have you been to a restaurant that had the tables too close together? Have you found a bar that is open in violation of the governor's order that it be closed? Have you shopped at a retail establishment where people were allowed in without masks? Or is there a business out there that is doing everything right that  you want to commend? There's now a Facebook page where you can vent about it or provide a compliment. It's called COVID Callouts.
"This is a place to publicly call out and criticize businesses and people who have chosen greed and selfishness, as well as racism, sexism, homophobia and transphobia over helping others during this crisis," reads the description of the page. "We will work together as a group to expose bad practices during the pandemic. Please understand working together as a community means no name calling, no in fighting, and no discouraging other people's efforts. If a disagreement occurs conduct yourself in a civil manner."
Posters on the page aren't holding back. Here a few with the names of the businesses are excluded because RA is unable to verify whether the complaints are legitimate.
"Thought I'd try a different [sic] but still same problem," wrote one commentor. "😞 face masks pulled down both employees and customers and one employee had no mask at all running through the store!"
Another took a fast food restaurant to task, writing, the [sic] on Veterans and the Beltway has had several employees test positive for COVID and is refusing to close and still putting the sick employees on the schedule!!! And this is a fact!! No rumor."
Still some commenters are taking a gentler approach and complementing those who are doing it right.
"Order was ready at the time they quoted," wrote a poster who was pleased with her service at Truth Barbecue. "Ample curbside parking spots, and the order was brought out immediately upon arrival. Employee was fully masked and wearing gloves. The food was packaged extremely well, with all the sauces, condiments, and sides packaged in individual closed containers."
The group has about 3,600 followers.
"The more people who join, the more impact this will have," reads additional information on the page.
"There will be no fact-checking, so if you are a business doing right by your employees you better be loud and proud about it. The rest of you better watch out!"
Among the group's 10 rules are to be fearless, spread the word and no individual call-outs.
There is a warning to posters that they post at their own risk as well as an offer to contact the page moderator who is happy to help with an anonymous post.
Right now, the focus appears to be on Houston businesses, but there has been discussion on the page about expanding to other cities.