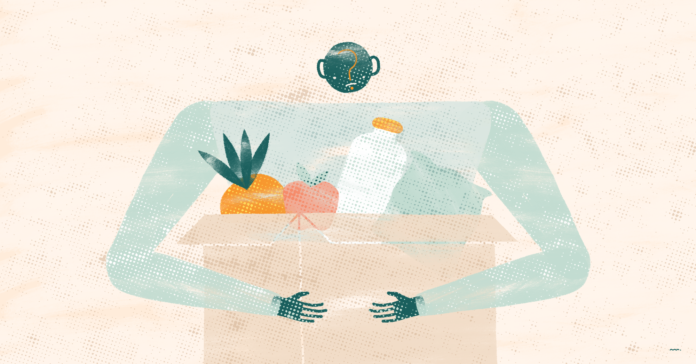 Families and individuals who have never been in need of food are now. If you are without a paycheck because of the coronavirus pandemic and unemployment hasn't kicked in, it's hard now.
"We've seen an 85 percent increase in those seeking help," said Celia Cole, CEO of Feeding Texas, a statewide network of food banks.
"Half of that is people who have never sought help before. We are seeing 50 percent more food distribution in an average month."
Cole said she is grateful that the Texas Department of Emergency Management is requesting aid from the Federal Emergency Management Agency, along with federal aid for food this summer.
"We are working on new sources of food," she said.
Here are perspectives on the pandemic from three food banks in Texas.
Houston Food Bank
Houston Food Bank President and CEO Brian Greene explains the changes in demand since the coronavirus pandemic began.
"We are serving all who need assistance. This includes the clients we had pre-COVID and people who have never sought food assistance before," Greene wrote in an email.
"The Food Bank has ramped up distribution to continue to meet the critical need for food that has increased due to the COVID-19 situation, specifically for the vulnerable population including people who don't have other access to food, are impacted by school closings, those whose work hours have been cut, etc.," wrote Greene.
As for the demand numbers, Greene said, distribution is currently at 150 percent of its usual operation.
With a decrease in volunteers due to stay-at-home orders, Greene shared ways that working during the pandemic has meant being innovative.
"We are having to develop new ways to distribute, like setting up drive-up models to cut down on contact/interaction at food distributions; doing direct delivery through volunteer partnerships; creating Neighborhood Super Site distributions to get an influx of food into specific areas; etc."
Bringing Out the Best
"Just about every story seems memorable, because they are meaningful," Greene said. "We've had a lot of teachers come for food assistance, they're having to take care of their children who have recently lost jobs and are staying with them. Parents are struggling to keep up with the added bills on limited income."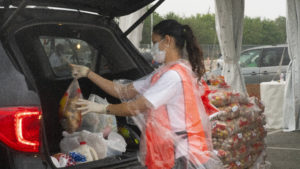 "We've had laid off oil and gas workers come to our pantry, and they've never had to visit a food pantry before. They had no idea we were even here and could help," Greene wrote.
Greene said the pandemic also has affected those who work at the food banks.
"West Houston Assistance Ministries said the hardest part is they can't embrace their clients. They know a lot of them, and they're family, and they're so used to hugging them as a greeting," Greene wrote. "They're also used to being able to hug clients to comfort them. Now they can't and try their best to communicate comfort through their words and eyes. West Houston Assistance Ministries is seeing new people every day."
How to Help
"As we start to shift our eyes to the future, we are always looking for volunteers to work on our various projects (please click here for volunteer opportunities in the warehouse, kitchen, and to register online)," wrote Greene.
Because of the COVID-19 pandemic, some opportunities may be closed or postponed, but other opportunities have been added, Greene wrote.
"We are always grateful for people who donate their time to assist us — volunteers are the lifeblood of our organization," he wrote. "And we are especially thankful for those who are committed to helping even during this uncertain time."
Central Texas Food Bank
"Like most food banks, we have experienced an unprecedented increase in need for our services, completely overhauled our distribution model and are having to buy more food in order to meet the growing demand," said Derrick Chubbs, president and CEO of the Central Texas Food Bank.
On their website, a family shares their story of becoming new food bank visitors. The family was able to make one last large grocery trip, hoping it would be enough to get them through the coronavirus pandemic. But as time went by, the family needed help. And they got it.
How you can help
"The best way to help right now is with monetary donations. This gives us the flexibility to purchase exactly what we need for this situation," Chubbs said.
Go to centraltexasfoodbank.org and donate if you can. If you're in need of help, go to our site and click on "Find Food Now."
North Texas Food Bank
The North Texas Food Bank has been serving at least seven times as many households as it did before the pandemic, said Trisha Cunningham, president and CEO of the North Texas Food Bank. The food bank is feeding more than 60,000 per week.
"Before COVID hit, we always had a steady stream … food and security are always an issue," Cunningham said, adding that now as businesses have shuttered, people who have never before needed help, do. "The demand skyrockets."
Cunningham said the NTFB is also providing education on where to find food. She sees a stigma about needing food.
"This isn't going to go away," she said. "And even when people get jobs, they will be recovering."
"Every food bank across Texas is there to help with anyone who needs food. Anyone."
She feels fortunate that the Texas National Guard came to help with kit boxes, distribution and assisting partner agencies.
Kindness in the darkest of times
People have donated their stimulus checks to the food bank, Cunningham said.
"People want to help other people when they are hurting," she said. "The acts of kindness over the past few weeks of people who want to help others … I get emotional thinking about it."
During this phone interview, Cunningham received flowers — another little symbol of hope.
How you can help
If you are social media savvy, the North Texas Food Bank has a volunteer opportunity to use your personal social media channels to spread the word about hunger and the food bank's mission to feed food insecure children, seniors and families. Posts were monthly pre-coronavirus and now are weekly. Get involved here.
If you are able to donate to the North Texas Food Bank, click here.
Rural Communities
Cole of Feeding Texas also reminds us that for Texans in rural communities, their disparities are only more dire. The cost of food can be higher, and access to food can be limited. For more information on how you can chip in, visit Feeding Texas.
Nutrition advocates and food banks across Texas are hoping Congress approves additional help for the Supplemental Nutrition Assistance Program.