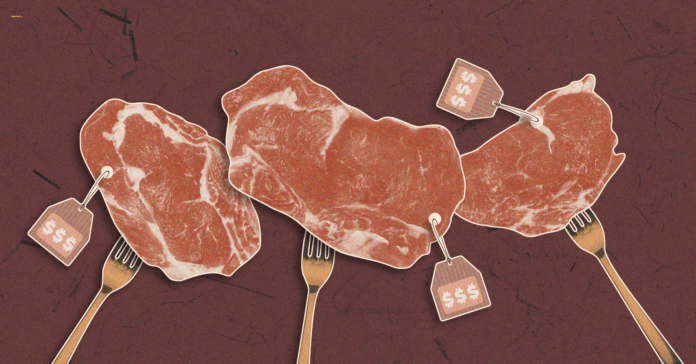 Meat lovers could be left wanting as the price of beef rises and supplies decrease due to the coronavirus pandemic and associated outbreaks in meat processing plants in Texas and elsewhere.
The problem of meat processing plants becoming hubs of mass infection is well established. At least 30 meatpacking plants across the country have closed after huge numbers of workers tested positive, according to the United Food and Commercial Workers International Union. At least 30 deaths are related to the plants. 
The impact of the virus on the workforce has put the American meat supply chain in danger, leading to a 40% loss in pork slaughter capacity and a 25% loss in beef.
Though national news has focused mostly on the big plants in the Midwest, Texas is being hit hard.
The fastest growing COVID-19 outbreak in the state isn't in one of the big cities, but in the panhandle — specifically Moore County. Nineteen out of every 1,000 residents of the county have tested positive, more than ten times the rate seen in cities like San Antonio. Most of Moore County's cases can be attributed to the JBS Beef plant located there. Employees work shoulder-to-shoulder in low temperatures for long shifts, increasing the likelihood of viral spread. It's grueling work that is handled mostly by immigrants and refugees from Mexico, Guatemala and countries in Asia and Africa.
JBS at first rejected an offer from the state to come in and test the plant's 3,000 workers. A spokesperson for the company, instead, encouraged workers to participate in community testing initiatives but refused the state entry to the plant. It was later reported the company had relented and would allow the state in. 
A Tyson plant in Amarillo is also experiencing an outbreak. Though the plant has not released the numbers of people infected, plant management has let the state's surge teams in for testing. Plant workers interviewed by The Texas Observer said that it has been present since March and at least one worker has died. The workers said the company did not start handing out face masks until mid-April. They said they were required to keep working with fevers over 100.4 degrees.
Despite documentation of a growing problem, President Donald Trump has mandated that meat processing plants remain open, signing an executive order under the Defense Production Act to compel them to do so.
Prices
With the workforce for meat processing sickened, the price and availability of meat is beginning to climb. Rationing was common in the early days of the pandemic when consumers rushed the shelves for staples as they prepared for the worst. Since then buying habits had mostly returned to normal, until now.
U.S. live cattle futures skyrocketed Tuesday. The Chicago Mercantile Exchange June live cattle futures finished up 4.5 cents, the daily growth limit, at 97.175 cents per pound. August futures settled up even higher as the market anticipates a drop in supply and a rise in demand. That prediction is echoed by the USDA, which lowered its forecast of 2020 beef production to 25.76 billion pounds, down 1.68 billion from its prediction in April. The USDA also predicted 1.6 billion fewer pounds in pork.
Stores in Texas are already responding.
Signs in Kroger stores inform customers of limits on purchases of beef and chicken.
Texas-based H-E-B has a list on its website of new protocols that took effect May 9. For most of the state, HEB shoppers are limited to five packages of fresh beef or ground beef, chicken, pork and turkey, two packages of frozen chicken, and two packages of raw beef patties. Different guidelines are in place for stores in Abilene, Big Spring, Burleson, Cleburne, Granbury, Hudson Oaks, Midland, Odessa, San Angelo, Waxahachie and the Houston area, including a higher amount of chicken. 
Costco and Sam's Club have also begun rationing.
The limits will hopefully avoid the problems seen early in the pandemic of empty shelves picked bare by panicked Texans. Nonetheless, shortages and price increases are expected.
"We have a logjam right now. And we haven't seen all the higher prices we're going to see," David Anderson, livestock economist at Texas A&M said in The Dallas Observer.
Restaurants
Grocery stores aren't the only businesses affected. In early May, nearly a fifth of all Wendy's 1,043 locations sold completely out of hamburgers. By contrast, McDonald's said it has not experienced supply chain interruptions. 
On a more local level, Panther City BBQ in Fort Worth has re-opened under Gov. Greg Abbott's 25% capacity rule, but it is having a hard time obtaining the meat customers want. "Right now, we just can't get the meat," co-owner Chris Magallanes told WFAA in Dallas. "What we can get that's available is really skyrocketing in price right now."