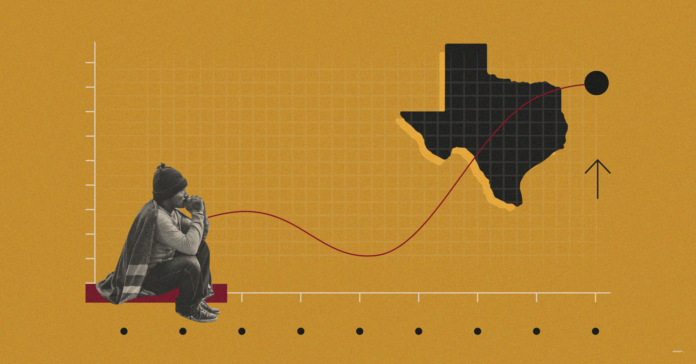 Many of us have been spending a lot of time at home over the last few months. For those without a home, the pandemic has brought new threats to what is already a very difficult existence.
After declining 12% in the decade prior to 2017, homelessness has been on the rise for the last three years, according to the National Alliance to End Homelessness, a nonprofit organization dedicated to preventing and abolishing homelessness in the United States.
If the upward trend continues due to the pandemic, it would nullify any gains that have been achieved in the past 13 years, the organization reported.
"We're really worried about a big rise because of the pandemic," said Eric Samuels, CEO of the Texas Homeless Network, a nonprofit membership-based organization that helps communities battle homelessness. However, he feels people have been meeting the challenge of the crisis in the short-term.
"I think our homeless crisis response systems have done an amazing job of responding," he said.
The homeless tend to be more susceptible to COVID-19 because the streets offer no place to self-quarantine, and they often lack access to basic hygiene options and have pre-existing medical conditions.
Ironically, it has taken the pandemic to make people realize that it is much more prudent and effective for community residents experiencing homelessness to be placed into permanent housing, Samuels said.
Corpus Christi
In Corpus Christi, there has been plenty of rental and mortgage assistance during the pandemic to help people secure housing or prevent them from becoming homeless. But there is a shortage of shelters, said Kyle Knutson, who serves as the social services director at the Salvation Army Corpus Christi and board president of the Homeless Issues Partnership, Inc., Corpus Christi's nonprofit homeless coalition.
"As far as the problem I'm seeing with the homeless population is here in Corpus Christi, no shelters are taking anybody," he said.
The Salvation Army is taking people but they are mandated to quarantine for 14 days because of the spike in cases.
"The problems I'm seeing is there's no place for these individuals to go," he said. "We're basically at 50% capacity [due to social distancing requirements] so we have about 70-80 people. Every other shelter is basically running the same way."
Knutson said the city of Corpus Christi hasn't developed a solution to the situation so residents on the street have nowhere to go.
"That's the problem that I see that breaks my heart is there are a lot of individuals that we have to turn away," he said. "There's no homeless shelters for individuals that have COVID. There's no homeless shelter for individuals that are suspected to have COVID. So any of those people that show any kinds of signs, I have nowhere to tell them to go."
To the best of his knowledge, there hasn't been a positive COVID-19 test result involving someone homeless but cases, in general, have been doubling in Corpus Christi during the past two weeks.
According to the Corpus Christi Caller-Times, Corpus Christi City Manager Peter Zanoni reported one homeless person tested positive for COVID-19.
The potential for several hundred positive COVID-19 homeless people to be wandering the street concerns Knutson.
"The homeless individuals will be the last ones to get tested," he said. "They don't always have access to health care. They don't always have access to the things that we take for granted."
Dallas-Fort Worth
In the Dallas-Fort Worth area, Tarrant County has had a highly effective coordinated response across their system of care, said Lauren King, interim executive director at the Tarrant County Homeless Coalition, a group spearheading the community solution to homelessness in Tarrant and Parker counties.
"Providers have worked together to immediately and continuously implement the latest CDC (Center for Disease Control and Prevention) and health guidance into their services," she wrote in an email to Reform Austin.
Local shelters have implemented social distancing, and the city of Fort Worth has consistently furnished overflow shelter space to make up for lost capacity, King said.
Numbers to Consider
Texas seems to be about the same or somewhat behind when comparing its numbers to other populous states.
Data from the National Alliance to End Homelessness' 2020 "State of Homelessness" report indicates that Texas emergency shelter beds in 2019 numbered 13,383 as opposed to California (31,028), New York (83,571) and Florida (11,595). Texas has had an 11% increase in shelter beds since 2007. New York and Florida had increases of 85% and 30%, respectively, during that span.
Additionally, Texas reported 14,069 permanent supportive housing beds in 2019. (Permanent supportive housing is an intervention to address the needs of chronically homeless people.) California had 65,397; New York, 44,905; and Florida,18,547. The Lone Star State experienced a 188% increase in permanent supportive housing beds since 2007, whereas New York and Florida had increases of 48% and 122%, respectively, during that time period.
Also, Texas had 555,059 households burdened with severe rents that total more than 50% of their income in 2018 placing them at risk for homelessness. The totals for California, New York and Florida in this category were 800,420, 529,799 and 396,931, respectively.
Money
The Coronavirus Aid, Relief and Economic Security Act has made funding available during the crisis, enabling people to move out of shelter and into housing earlier. Especially in the larger cities, Samuels said.
Several cities across Texas have received housing assistance from the CARES Act.
"Communities are working to use these resources strategically to best meet the needs of anyone experiencing homelessness, so we should be able to provide more housing assistance than we have in the past," King said.
Last month, Tarrant County was awarded $ 8.7 million from the CARES Act Emergency Solutions Grant Program with $6 million earmarked for Fort Worth, according to a June press release issued by U.S. Rep. Kay Granger (R-Texas).
"The funds will support local efforts in coronavirus prevention and response among individuals and families who are homeless or at risk of becoming homeless," the press release said.
The city of Houston recently pledged $29 million in CARES Act funds to support individuals experiencing homelessness, and in June, Corpus Christi was granted $1.86 million in federal funds to help the homeless through the challenges of the pandemic.
Ultimately, nonprofits and local governments, with or without federal funding, are seeking and creating solutions to expeditiously house an escalating homeless population in this time of crisis.
"Our overall goal is to get people housed as quickly as possible and ensure our system is running at full capacity to serve as many people with the interventions that best meet their needs at the time," King said.