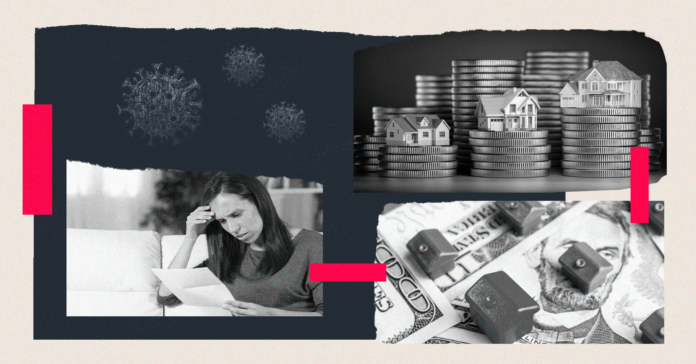 Buying a home is usually the most expensive purchase of your life. This spring, the housing market is on the minds of many Texans, especially those who have been saving up to take the plunge.
Here we dive into the Texas real estate market and the outlook during the COVID-19 crisis.
Mortgage applications fell 17.9 percent in the first week of March from the week before, according to the Mortgage Bankers Association's seasonally adjusted index, CNBC reported.
What about the economy amid the coronavirus pandemic, and how will it affect the real estate market?
"We are still in the very early stages of the coronavirus as an economic event, and it is too early to tell what the impact may be to say — the housing industry," wrote Alexander W. Obregon, Houston deputy city controller.
"We are closely monitoring the financial impact the coronavirus will have on our national and local economy. The spread of disease is altering the behavior of individuals and businesses in a manner that will have negative effects on local industry. The financial markets have seen a lot of volatility as much uncertainty still remains."
Obregon said it is still too early to tell how consumer behavior may be permanently altered or how long an economic recovery might take.
"We are basically looking at what may be a great recession, or worse, economic event," he wrote.
"For Texas, we may get a double blow as a recession is usually accompanied by lower global demand for oil, and we are already seeing low oil prices. The theme here is that a ton of uncertainty remains, and we do not really know when things will normalize."
Mark Sprague, state director of information capital for Independence Title in Austin, wrote in an email about his outlook of the housing market and if he has a strong forecast, "If the market returns to normal within 30 to 90 days, yes. Longer than that, it becomes a concern economically, because of the disruption and stoppage on revenue to multiple sources. We will have to revisit at that time. As a metro, region and nation, we have showed remarkable resiliency in the face of crisis."
"We are all in this together. So those industries that have and will take a beating should come back. Again, it just depends on the length and depth of the crisis. Presently we have not seen an economic slowdown in the Austin and regional housing market," Sprague wrote.
With social distancing in mind, for some real estate agents, staying six feet away is not enough. Some real estate agents are bringing sanitizing wipes to open the doors of homes they show in person, the Houston Chronicle reported.
In Dallas, however, legendary real estate agent Allie Beth Allman said it's no time to slow down.
"I'm telling my agents that we need to get on our roller skates and be ready to roll," Allman said in an interview with Paper City Magazine. "I'm not discouraged at all about the situation right now. In fact, I think we are going to be swamped when we can all get out again. People are stuck at home right now, but they are ready to make a move."
Allman said with the digital age, the internet and virtual real estate showings, that nothing should change the pace. She said in a month, there will be many more answers.
Pierce Allman, director of marketing at Allie Beth Allman & Associates in Dallas, shared this insight on trends in the market: "While no special style is being favored, people who love modern can find good examples in all price ranges – same for traditional – the federal/colonial classics are still sought. Price ranges in current closings range from $300,000 – $2 million and above. People want to take advantage of the historically low mortgages."
Although this may feel inspiring, you may be wondering if it's a bad time to invest in a home.
"Not necessarily, although the inventory of what is available for sale may not be as high as is typical at this time of year," wrote Mark Roberts, executive director of the Texas Real Estate Center at McCombs School of Business at the University of Texas at Austin, in an email.
Roberts explained that while there are new listings entering the market, the number increasing each day has decelerated, and the supply of homes available for sale may also be limited.
"There has never been a better time to buy!  From an economic standpoint," wrote Jay Southworth, the co-founder of Independence Title in Austin.
The National Association of Realtors has been taking some flash surveys across the country — seeking responses from more than 70,000 of its members. As of March 9, 78 percent of their members reported no change in buyer interest as a result of COVID-19 and only 13 percent indicated that it had affected buyer interest. They were asked the same question a week later, and 37 percent of members reported a decrease in interest while 51 percent saw no change or an increase, indicating that COVID-19 is likely having some impact on buyer interest.
The NAR flash surveys also looked at seller behavior, noting an 18 percent decrease in homes on the market between March 9 and 16. Thus, just as there may be some increasing reticence among buyers, there's also some hesitancy among homeowners to list their properties on the market.
As of 2018, the median duration of homeownership in the U.S. was 13 years, according to NAR.
How does COVID-19 affect the process of buying a home?
Roberts said it's best to remain patient with the process.
"Given the shelter-in-place orders, it is taking more time to schedule home inspections than it otherwise would require," he wrote.
There may also be delays in getting a home loan approved.
"I learned this week Congress may consider increasing the size of that loan program for small businesses," Roberts wrote.
"If Congress does so, banks will be busy making those loans, and it could take longer than normal to receive a loan commitment as lenders assist the (Small Business Administration)."
What should a potential home buyer ask before buying?
"When buyers make an offer and secure an option to purchase a home, they typically have 10 days to inspect the home. As it may be taking longer to secure an inspection, buyers should do their homework and make sure they can secure an inspector and find out how much time that inspector will take and make sure that is addressed in their contract."
Roberts suggests speaking with the title company and understanding whether they have delays in securing title insurance and a survey. That should also be considered before entering into a contract.
Will there be price drops for homes?
Roberts said no, buyers shouldn't expect any significant discount from where prices stood just a couple of months ago.
"Unlike before the credit crisis, households had taken on much higher levels of debt. The amount of household debt is much lower today, and homeowners are sitting on much higher equity values in their homes today. Thus, at least for now, we aren't seeing the risk in the housing market from "forced selling" that we saw in 2008," he wrote.
Roberts praised Texas' quick moves to deal with the virus and its economic effects.
"While we have some economic distress at the moment due to the virus, the enormity of aid and stimulus from Washington D.C. is simply staggering. Had our politicians not acted with such swiftness on both the health side as well as the economic side, then we could be looking at more acute issues. Just a couple of weeks ago, before the Fed acted, the economy was in the intensive care unit, if you'll pardon my metaphor. While it will take some time for the economy to get restored to its full luster, at least we're out of the ICU."
Roberts has a much more optimistic outlook for the longer term.
"If you find the house you like and are taking a longer term view, there's probably never been a better time to take advantage of low interest rates."
Mark Sprague with Independence Title in Austin adds, "The good news is the housing market remains strong locally and regionally.  New home sales and construction plateaued nationally in 2019, despite job growth, low mortgage, and home price appreciation. Locally we still need more inventory and values continue to remain strong with greater demand."
For those with a home already, what about refinancing?
"Unequivocally, Yes. Although that does depend on the interest rate you have on your current mortgage and the cost required to secure a new mortgage," Roberts said.
Sprague shares more insight on refinancing, "Current low rates have already caused a boom in refinance activity. And demand among homebuyers remains elevated, despite the short supply of homes for sale. As a result, lenders don't need to give Americans much more incentive to apply for new home loans."
Jay Southworth the co-founder of Independence Title chimes in, "Over 85% of the national residential market has already refinance below 4.5%."