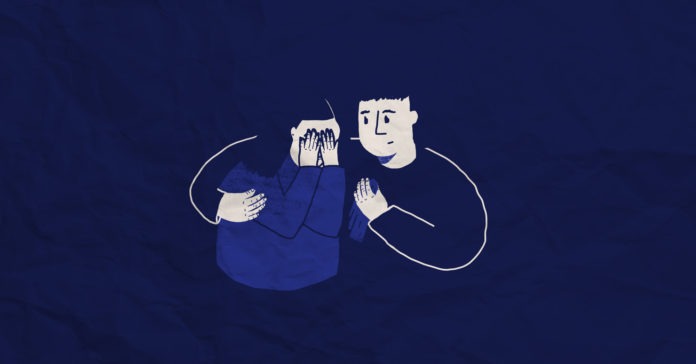 The loss of a loved one can make you feel alone, lost and uncertain, and while people are farther apart during the coronavirus pandemic, grief can be overwhelming and traumatic. Experts have advice for people who are grieving and friends or family members who want to be supportive.
Acknowledging your grief
Grief can bring feelings of guilt, blame or a deep sense of loss, but validating grief is a step toward healing.
"Healing the loss of a loved one takes time," said Dr. Luz Garcini, who is an assistant professor at the Center for Research to Advance Community Health at the University of Texas Health Science Center at San Antonio.
"Each person needs to be respected in the way they grieve, yet friends and family should pay careful attention and seek help if the grief becomes so complicated," Garcini said.
Beverly Rodgers, adjunct professor at the University of Houston Graduate School of Social Work, wrote in an email on Wednesday that "closure is not a very helpful concept. When we lose someone we love, we are forever changed."
"Everyone grieves in their own way in their own time," Rodgers wrote.
Healing
Finding the support network you need may seem impossible during a pandemic, but it's important to brainstorm creative strategies for maintaining closeness and communication with loved ones during these times, Garcini said.
Garcini says a helpful strategy may be to reflect upon good memories and on the legacy of the person who died.
"Remembering and honoring those good moments and treasuring them, although it may be painful, can help with healing and bringing a sense of peace."
Practicing coping skills can limit stress propelled from grief.
"For some people, it may be finding comfort in their religion or in activities that may help them forget, even for a few minutes, about the pain, such as reading, watching a movie or going for a walk … connecting with others through technology, writing letters or expressing feelings through art," Garcini said.
Rodgers has taught grief and bereavement therapy for many years and said having a more holistic consideration of the relationship can provide great comfort. She also suggests having a ritual.
"Ritual is very important in helping us to accept the reality of our loss … This time of quarantine requires us to reinvent ritual."
Some rituals could be preparing a meal a loved one enjoyed. Other rituals can involve celebrating your loved one's passions, hobbies and work. Hope can be found in helping others, too.
Some families may make plans to visit a place your loved one enjoyed or donating in memory of your loved one to an organization they cared about. All can bring comfort for your grief.
"The important thing is to acknowledge the physical absence of their loved one and to honor the relationship that is now forever changed," Rodgers wrote.
Grief is a lifelong process.
"I would ask the one who is grieving to consider the totality of the relationship with their loved one, rather than the closing moments of their lives," Rodgers wrote.
If you are struggling with your grief, Rodgers said, hope is found in connection, but finding connection and support takes more effort during the pandemic.
"It is easy to feel isolated right now because we are, in fact, in isolation," she wrote. "Call a friend, drop an email, send a text. Reach out and ask for what you need."
Also while your own grief feels overwhelming, reaching out to others with words of support can be life-affirming and promote feelings of connection and purpose, Rodgers says.
If you are wondering about the right words to acknowledge another's grief, Garcini suggests avoiding saying "it will get better," because that does not allow people to face their emotions at the moment.
"Eventually, it will get better, but at the time of loss, the person needs to be validated in their feelings, Garcini said. "Comments such as 'yes, this is a very difficult moment' or 'I understand how difficult this is for you' could be particularly helpful. Also, asking people how you can help or what they need at that moment can help them accept their feelings."
Resources
"Unaddressed grief can come out in harmful ways, including increased emotional distress, clinical depression or suicidal ideation," wrote Rodgers. "Failing to acknowledge and process feelings of grief can have devastating and long-lasting effects on our lives, our families and society."
These resources may help.
Rina Ocampo, a coordinator at Bo's Place, a nonprofit, free-of-charge bereavement center in Houston, had some suggestions for those who are experiencing grief.
"The National Alliance for Grieving Children promotes awareness of the needs of children and teens grieving a death and provides education and resources for anyone who wants to support them," she wrote in an email this week. "They offer trainings and have resources available through their website including many specific to COVID-19. They also have a listing of grief support for children by state."
Ocampo also recommended the Funeral Services Foundation which has a guide called "Grieving Alone & Together: Responding to the Loss of Your Loved One During the COVID-19 Pandemic."
Garcini suggested these resources for those facing grief and loss including some self-help books:
http://www.memorialhermann.org/grief/
https://www.vnatexas.org/i-need-help/aging-resources/grief-resources
Rodgers says that many organizations that offered in-person support groups or counseling services now provide similar services online. For Texas groups, go to psychologytoday.com/us/groups/grief/texas or 211Texas.org or call 211. Other websites include: grief.com and grieving.com. 
Most hospices employ grief counselors who will provide limited grief counseling at no cost. To find a hospice near you, Rodgers suggests https://www.nhpco.org/find-a-care-provider/ 
AARP.org is also a good resource for information and online support.
Love
"There are no rules of thumb as to how long it may take to feel better. Each person's grief is different," Garcini said.
Rodgers says to remember the reason you are feeling your grief.
"Just know that the very fact that you are experiencing grief means that you have loved and been loved. And love survives. Even in crisis, even in hardship, even in death."