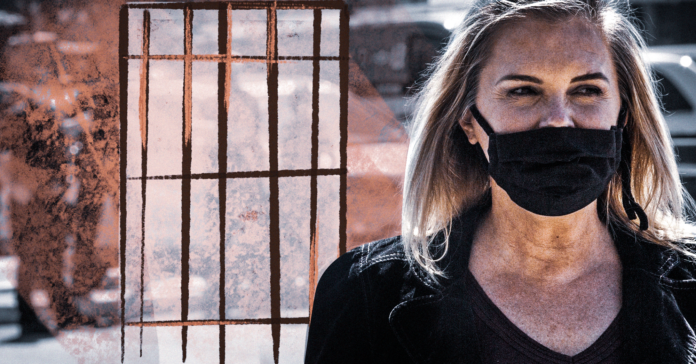 The Texas Supreme Court ruled Thursday that the Dallas salon owner who was arrested for violating Gov. Greg Abbott's executive order to remain closed to help fight the spread of COVID-19 should be released from jail.
The court's ruling follows an outcry from conservative lawmakers and Abbott's modification of his executive orders to eliminate confinement as a punishment for violating the orders.
"Throwing Texans in jail who have had their businesses shut down through no fault of their own is nonsensical, and I will not allow it to happen," said Abbott.
Abbott's modified order specifically refers to Dallas salon owner Shelley Luther whose incarceration for reopening before she should have ignited a firestorm of criticism from the right, including State Rep. Jeff Leach (R-Plano), Lt. Gov. Dan Patrick, Texas Attorney General Ken Paxton, numerous other state lawmakers and Abbott.
Luther refused to apologize saying "feeding my kids is not selfish" and said she'll keep her salon open to help her stylists to feed their families.
Although the critics had focused their social media outrage only on Luther, Abbott's amended order also gives a nod to two Laredo women who were arrested for the same thing.
"It may also ensure that other Texans like Ana Isabel Castro-Garcia and Brenda Stephanie Mata, who were arrested in Laredo, should not be subject to confinement. As some county judges advocate for releasing hardened criminals from jail to prevent the spread of COVID-19, it is absurd to have these business owners take their place." Abbott's new order reads.
On April 17 KGNS reported that Castro-Garcia had been running a nail salon inside her house and Mata was performing eyelash services inside her home. Both had been arrested and transported to the Webb County Jail and charged with Violation of Emergency Management Plan C/B.
On Wednesday, Lt. Gov. Dan Patrick said he would gladly pay Luther's $7,000 fine. It was later revealed that he did just that. He did not offer to pay any fines for the women in Laredo.
Members of the State Republican Executive Committee joined in the fray by circulating a letter to Abbott calling for Luther's release.
The letter reads, in part, "Even a two-bit drug dealer is allowed bail to be set pending appeal. Defiance from Ms. Luther speaks volumes, as she refused to grovel in front of Judge (Eric) Moye as he demanded, in exchange for a reduction of this unfair sentence."
"If this is justice in Texas, we are certainly doomed to our liberties deteriorating on a downward trend," the SREC letter reads. "As Republicans, how can we hope to hold Texas under these circumstances. We hereby call upon you, Governor Abbott, to restore justice and fairness to the State of Texas by the immediate pardon and release of Ms. Luther."
Paxton accused the judge of abusing his authority and called Luther's arrest a political stunt.
Twelve district judges shot back with a letter of their own in which they accused Paxton of violating judicial ethics.
Enter Leach who threatened an investigation through the Texas House Judiciary Committee he chairs to find out if any of the district judges who signed the letter to Paxton had talked to Dallas County officials before writing their missive.
Leach tweeted, "This is crap. @JudgeClayJ – you are a good man. No doubt about your sincerity. But you should be ashamed of yourself for allowing this to take place in Dallas County. Steward and lead. Don't rule!"
Leach wrote a tweet to Chris Turner (D-Grand Prairie), and wrote, "Hey Chris [Turner]- Did any of these admonishing Judges have communications with Judge Clay Jenkins or any other executive from Dallas County or the City of Dallas? Maybe I should call a hearing of the Judiciary Committee and get to the bottom of this. Would you support such an inquiry?!"
Hey Chris – Did any of these admonishing Judges have communications with Judge Clay Jenkins or any other executive from Dallas County or the City of Dallas? Maybe I should call a hearing of the Judiciary Committee and get to the bottom of this. Would you support such an inquiry?! https://t.co/APQHpZXBMh

— Jeff Leach (@leachfortexas) May 7, 2020
Wow. Read this admonishment of @KenPaxtonTX from 12 district judges. #txlege https://t.co/FdUHN0R6kt

— Chris Turner (@ChrisGTurner) May 6, 2020
Joe Moody (D-El Paso) said it wasn't in his jurisdiction:
A complaint involving judicial misconduct goes to the State Commission on Judicial Conduct. It is an independent state agency that conducts investigations. The Texas Constitution requires these investigations to be confidential. #txlege https://t.co/j016GHeR10

— Joe Moody (@moodyforelpaso) May 7, 2020