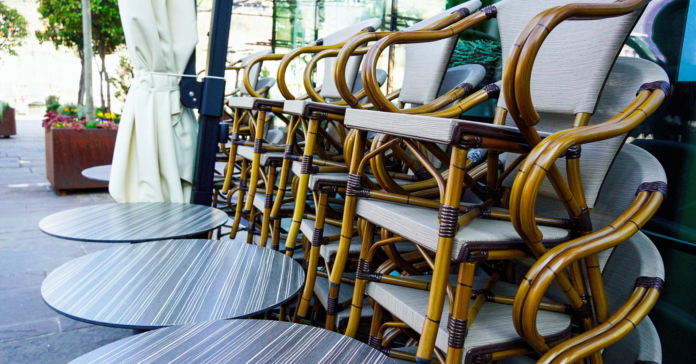 As the political debate rages about whether Texas is moving too fast or not fast enough to get back to business, there is growing concern the pandemic will be fatal for many Texas businesses. Among the hardest hit are Texas restaurant and bar owners and their employees, who, according to the Kinder Institute, comprise the largest number of unemployment claims.
Anna Tauzin serves as chief revenue and innovation officer for the Texas Restaurant Association. She told Reform Austin that about half of restaurant owners reopened during phase one of Gov. Greg Abbott's Open Texas plan. More will open on Friday, when they will be allowed to serve at 50% capacity instead of the current 25% restriction. 
Tauzin said although they would love to go back to 100% capacity right now, they do understand that a measured approach is necessary. Still, for many restaurants, it is too little, too late. 
"It's not enough. It's not sustainable," Tauzin said.
Tauzin's group estimates 25 to 30% of the state's restaurants will not live to see another day. That estimate is not based on empirical data, but it is backed up by others in the industry. 
OpenTable forecasts 25% of restaurants won't make it. The financial services company UBS pegs the failure rate at one in five.
It's not just small restaurants that are hurting. Chef Gordon Ramsey has reportedly taken out loans to keep his business afloat during coronavirus. And, in a controversial move, Texas billionaire and restaurateur Tilman Fertitta is asking for federal help for big businesses like his.
Being closed for almost two months would impact any business, but the situation is further complicated for restaurants. They have the same cash flow issues as most of the businesses that have been shut down, but the pandemic has caused supply chain issues that are complicating their ability to get back up and running. In addition, many customers aren't yet comfortable dining away from home.
The hesitancy to venture from home was borne out by a poll of Reform Austin's social media followers when phase one of the governor's reopen plan took effect at the beginning of the month. Seventy-six percent of respondents said they were staying home.
Many who are choosing to stay home have made good use of increased takeout and delivery options. Seeing the writing on the wall, restaurants that were able to do so quickly pivoted to pick up this business. Tauzin said once takeout orders tended to be for one, but they are now being ordered to serve entire families. 
But not everyone has been able to adapt.
"I think we'll see in two more weeks a lot more of them saying, 'OK, we're tapping out,'" Taranto Etheredge of the San Antonio restaurant advocacy group Culinary said in the San Antonio Express-News.
Moving forward, Tauzin said, TRA is holding out hope for more governmental help. She said they could really use some protection from liability. That's a hot button issue that is being debated across the country. 
Starting Friday, Texas restaurants may begin operating at 50% capacity. They will still have to adhere to social distancing and sanitation guidelines. That's OK by Tauzin's group, which developed the Texas Restaurant Promise to guide owners as they reopen. 
"The health and safety of your employees, guests, and community are always a priority, and as we monitor the current public health situation, our prayers go out to those affected by COVID-19," said TRA President and CEO Emily Williams Knight in a statement about the promise. "Updates are changing rapidly, and our collective response needs to be tempered with calm, common sense, and a focus on everyone's safety."
Owners are asked to promise to continue to be leaders in safe sanitation practices with all team members certified in safe food handling and with a certified manager on every shift. Also that all employees will be trained on appropriate cleaning and disinfection, hand hygiene, and respiratory etiquette.
The promise is meant to work in tandem with the state's Minimum Standard Health Protocols for Restaurants, which require tables to be at least six feet apart and no more than six customers per table as well as several other sanitation rules. Restaurants abiding by the Texas Restaurant Promise are asked to post the promise at their entrances along with signage to remind everyone of best hygiene practices.