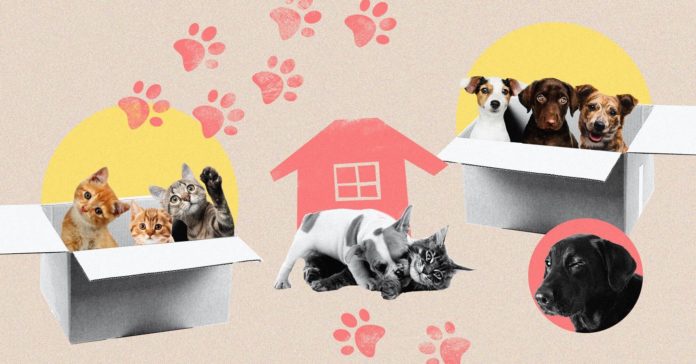 In the early months of the COVID-19 pandemic, the Austin Humane Society saw a major surge in adoptions, but that has leveled out some, Katie Kennedy, director of communications wrote in an email Wednesday. 
Kennedy explained that the demand and desire to adopt has remained very steady and the Austin Humane Society is booking nearly every available daily appointment for adoption.
"While our adoptions are down compared to normal operations, the demand has far surpassed our expectations of what would happen with this new system," she said.
Since mid-March, Kennedy said, the Austin Humane Society has had fewer animals housed at the shelter compared to our normal operations for two main reasons.
"We had a huge interest in fostering during the pandemic, so we are still trying to put a majority of our animals in foster homes," Kennedy wrote. " In the early months, close to 75% of our total population was in foster. That number has gone down some, but we are still trying to put as many animals out to foster as possible."
The other reason is staffing.
"We are maintaining a slightly lower population on site due to reduced staffing. We have some staff working from home and have split into two teams for safety, so in order to maintain the highest quality of care for the animals on site, we are keeping the population at a level that our staff can manage," Kennedy wrote.
Houston
In Houston, the Houston Humane Society has been fortunate to see an increase in adoptions. There have been 1,642 adoptions from mid-March to mid-August compared with 1,420 adoptions during that same period of 2019. 
"We had a 15.63% adoption increase, probably because people have more time at home and can take the time to assimilate a new pet into their family," Alejandra Peimbert, assistant marketing manager, said Wednesday.
As the adoption rates increased the Houston Humane Society has had room to house more animals.
"We have partnerships with shelters in the area that transfer animals to us as well, so we help save more lives," Peimbert said.
Adopting
The Austin Humane Society has adjusted the adoption process to make it completely contactless.
Pictures of and information about adoptable pets are posted on austinhumanesociety.org. If someone sees a pet they are interested in, they can email adoption@austinhumanesociety.org or call the shelter at 512-646-7387 during normal business hours, Kennedy explained. Then you schedule a virtual video call with the animal. If you decide to move forward with the adoption, a curbside pickup will be scheduled.
Also, take note, that all adult animals are leaving the shelter under a two-week foster-to-adopt program, so the adopter will have time to make sure it's a perfect fit before finalizing the process, Kennedy explained.
To check out the pets or contribute to the Austin Humane Society, click here.
The Houston Humane Society also has changed its adoption process.
"At the beginning of the pandemic, we required adopters to have a confirmed appointment to control the number of individuals in our adoption facility," said Peimbert.
Now, however, that is no longer necessary. The usual adoption process has resumed, and walk-ins are accepted during normal business hours.
"Nonetheless, we still are maintaining social distance and asking our customers and staff to wear masks to keep them safe," Peimbert said.
To view a potential new pet or contribute to the Houston Humane Society, click here.
This weekend, you can be a part of the Clear the Shelters adoption initiative. Click here for more information.