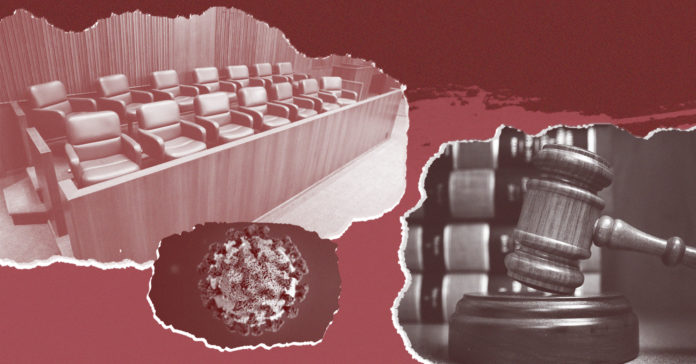 Anyone scheduled for jury duty in the next several weeks has COVID-19 to thank for giving them a break. As confirmed cases of the virus rise in Texas, civil and criminal court proceedings all over the state are being dramatically reduced or canceled for the foreseeable future.
Dallas County has shut down all criminal, civil and justice of the peace court activity. Any Dallas County resident with a summons to appear prior to May 8 is directed not to report or even call to reschedule their service. The district clerk's offices are closed to all face-to-face transactions. Updates are available at https://www.dallascounty.org/districtclerk/.
Harris County District Court Clerk Marilyn Burgess also has closed in-person services at court offices and suspended jury service until April 30. Services are still accessible through the clerk's website at www.hcdistrictclerk.com.
"We are committed to the welfare and safety of those we serve, and we are prepared for this situation," said Burgess. "Almost all of our services are available online, and the public will be able to call and email our offices as well."
In Bexar County, court proceedings are limited to essential matters. These include child protective orders, gestational surrogacy orders, criminal magistrate proceedings, requests for temporary restraining orders or temporary injunctions and other emergency matters. Updates are being shared via the court's website.
Travis County criminal, civil and family courts have suspended all in-person non-emergency jury trials, non-jury trials and non-essential hearings. The order does not apply to juvenile court matters. In the meantime, lawyers are urged to exercise their best judgment about whether their hearing is an emergency. Travis County criminal court proceedings are currently scheduled to resume May 8. There are separate websites for Travis County civil and criminal courts.
The changes in court activity were implemented prior to the stay-at-home orders issued for Austin, Dallas, Houston and San Antonio.
As with everything related to COVID-19, this is a fluid situation, so residents with jury summonses or other matters requiring contact with the courts should seek the information available online from their county's district clerk.