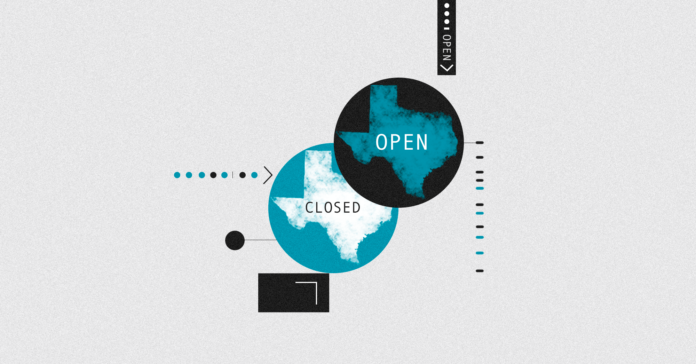 While COVID-19 case counts and hospitalizations surge in the state's big cities, life is almost back to normal in more than 100 Texas counties.
As of Friday, 118 of the state's 254 counties have filed documents with the Texas Department of State Health Services to resume business at a faster rate than the rest of the state because they have relatively low numbers of people infected.
Effective with Gov. Greg Abbott's order of June 12, any county with 10 or fewer COVID-19 cases is free to operate at 75% of normal capacity while business in the rest of the state remains limited to 50% occupancy.
Among those qualifying for the looser restrictions are Anderson, Medina and Zavala counties.
Anderson County, located southeast of the Dallas/Fort Worth Metroplex, went from a high of more than 887 cases 10 days ago to just one case as of Friday. Almost all of the county's cases were attributed to inmates in the Beto Unit, a maximum security prison located in an isolated area of the county.
Medina County, 30 miles southwest of San Antonio, had 138 cases on June 6. On June 25, it reported no cases.
And tiny Zavala County near the Rio Grande River also had just one case on Friday. In fact, Zavala, which has a population of about 11,600, has never had more than five cases.
Due to multiple factors including lack of access to health care and older and less healthy demographic groups, rural communities had been expected to be hit hard by COVID-19.
The actual case numbers could be higher than what is being reported because people have dismissed symptoms as being caused by the flu or a cold and have chosen not to seek treatment or even get tested.
Regardless of the reason, there is a clear division right now between what is going on in rural Texas and the rest of the state.
On Friday, Harris County had more than 25,000 positive cases of COVID-19. Dallas and Tarrant counties have had almost 29,000 combined. Bexar and Travis Counties have had 8,452 and 7,097 cases, respectively.
On Friday, Harris County Judge Lina Hidalgo elevated the county's COVID-19 threat level from significant to severe, the highest level possible. She also issued an urgent appeal for residents to stay home again except for essential outings.
Dallas County is also at its highest threat level.
Gov. Greg Abbott ordered bars closed to in-person service starting at noon Friday. He also cut restaurants back to 50% occupancy, after allowing them to move to 75% occupancy just a week ago. It was unclear if the governor's new order would impact those counties that have 10 or fewer cases. 

You can see case histories for each Texas county here.