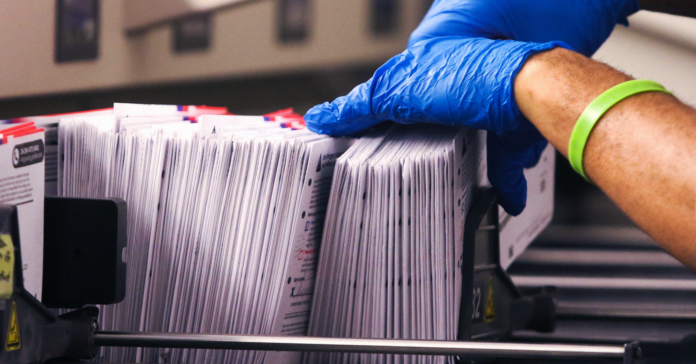 Just days after Texas Attorney General Ken Paxton threatened to prosecute local officials for encouraging more people to apply to vote by mail, the Texas Democratic Party has asked the courts to tell Paxton to back off. The party's motion for emergency relief is aimed at ensuring counties and voters do not fear applying for and processing vote-by-mail applications in Texas. 
"Without emergency relief, Appellees and their members, along with thousands of similarly situated voters, remain in legal limbo, on the one hand seeking to avail themselves of rights clarified by the state's judicial branch while on the other hand being subjected to possible investigation and criminal prosecution by part of the executive branch for the same activity," the motion reads.
State District Judge Tim Sulak previously issued a ruling allowing all voters who risk exposure to the coronavirus if they vote in person to ask for a mail-in ballot under a portion of the Texas election code allowing absentee ballots for voters who cite a disability.
Although the case is being appealed, several counties have started to inform the public of the judge's order, angering Paxton and prompting his threat to prosecute.
"Mail ballots based on disability are specifically reserved for those who are legitimately ill and cannot vote in-person without assistance or jeopardizing their health. The integrity of our democratic election process must be maintained, and law established by our Legislature must be followed consistently," said Paxton. "My office will continue to defend the integrity of Texas' election laws."
Texas Democratic Party Chair Gilberto Hinojosa said it is time Paxton and Gov. Greg Abbott follow the court decision.
"The rule of law is the deciding factor, and Abbott and Paxton must stop threatening counties and voters with criminal prosecution for following the rule of law and voting by mail."
Meanwhile, 40 Democrats in the Texas House have signed a letter urging Abbott to set aside funding to send a mail ballot application to every registered voter in Texas. 
The letter penned by Rep. Philip Cortez (D-San Antonio) reads, "We must create a plan to allow Texans to fully exercise their constitutional rights safely, while ensuring every voter has full faith and trust in the electoral process."
Cortez' group notes there is about $24 million coming to Texas from the federal stimulus package that could be used to pay for their idea. The federal dollars require a state match of 20%.