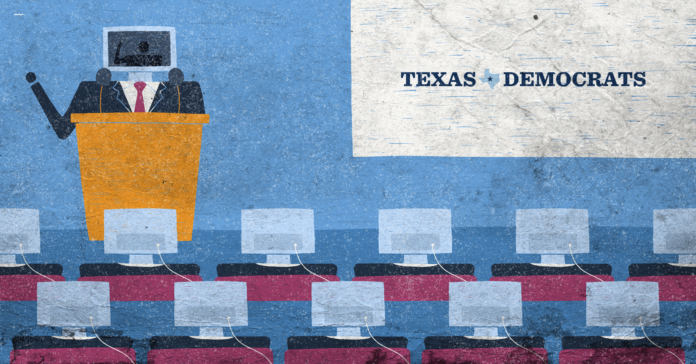 Texas may be officially completely reopened by the end of May, but the Texas Democratic Party is sticking with plans for its first completely online virtual state convention, June 1-6.
"We pride ourselves for having the largest convention in the country," said Texas Democratic Party Deputy Executive Director Cliff Walker in a statement released by the party. "It's the biggest gathering of Democrats outside of the DNC (Democratic National Convention). But now that we're having to make some adjustments, I think it really does give us some opportunities."
The party's virtual convention is scheduled for the first week of June utilizing two virtual channels: One for official party business like voting on delegates and one with speakers, performances and panels. The party is still in talks with its production company and speakers about locations for the broadcast events.
According to details announced Friday, the channel with speakers and panels will be broadcast on social media platforms such as Facebook, and party business will be conducted on a video chat platform like Zoom that will feature a grid of video boxes and allow participants to interact and ask questions.
"It's important for us to take this opportunity with the convention and say, hey, for some folks that maybe had never been able to participate before, that couldn't take the time to come to a city and pay for a hotel and pay for the travel and do all of that, they can still experience the convention," said Manny Garcia, the state party's executive director.
The traditional in-person convention held in a big arena tends to attract 10,000 to 15,000 people. Organizers of this year's convention hope for greater participation by going online but concede there will be some difficulties in creating the rally-type event everyone is used to.
"We're not going to have that in the sense that, you know, that the crowd's going to be out there cheering on the team," Texas Democratic Party chair Gilberto Hinojosa said, "But that's the best we can do under the circumstances."
One of the main functions of the state convention is to elect the 228 pledged national delegates to represent Texas at the DNC convention in Milwaukee, which has been moved to August due to the pandemic. For voting on delegates and other party business, the state party has built out a system using Google Forms.
Voting will be divided across multiple days, instead of the traditional one to two days of voting, so that users with varying technological equipment and expertise have the time to participate. Party officials said there will be testing and extensive training on the process ahead of the convention.
The Texas GOP is still planning an in-person state convention on July 16-18 at the George R. Brown Convention Center in Houston.