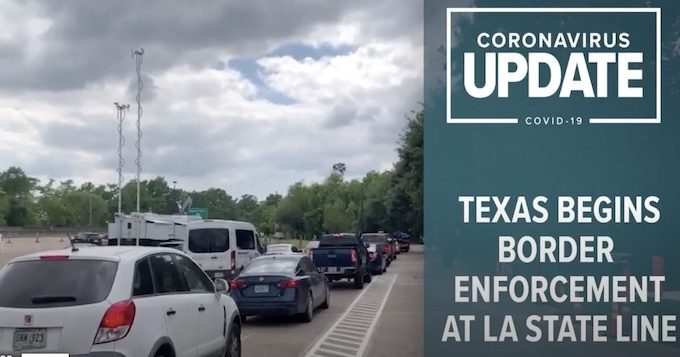 Although not revealing all the places they are stationed, the Texas Department of Public Safety is flexing its muscle along the Texas and Louisiana border, where screening stations have been set up to confirm the destination and health status of motorists and to prevent the spread of COVID-19.
Gov. Greg Abbott's mandated 14-day quarantine for those traveling by road and arriving in the Lone Star State from any part of Louisiana went into effect March 30. Not following the order can result in a $1,000 fine or confinement in jail for a term not to exceed 180 days, or both.
Last week in response to an inquiry from The Dallas Morning News about the screening stations, the DPS' public information office said in a statement, "it's important for those entering Texas from Louisiana to be prepared to stop."
The TX DPS shared the following statement with Reform Austin Tuesday, "As part of our efforts to enforce Governor Abbott's executive order (GA-12), the Texas Department of Public Safety has increased its presence along the Texas/Louisiana border. DPS troopers have set up roadway screening stations to gather required forms from road travelers along the border. "
"Additionally, we are pleased to report that we have had widespread compliance with completing the travel forms and following the executive orders."
"Governor Greg Abbott tasked DPS with enforcing the Governor's Executive Orders, GA-11 related to air travel from designated locations and GA-12 related to road travel from Louisiana. As of April 12, DPS Officers screened over 137,500 individuals and collected 24,492 travel forms from individuals subject to the mandated self-quarantine."
Although the Constitution guarantees the right to enter one state and leave another, The New York Times reported, jurisdictions can require quarantines or statements of purpose.
What can I expect when I get to the Texas state line?
For Louisiana highways 1 and 2, Caddo Parish Sheriff Steve Prator made an order that every third car traveling into Texas on the highways will be stopped and asked what business they have in Texas, the East Texas news station KLTV reported this week.
And be prepared for traffic congestion when traveling west into Texas from Louisiana roadways.
Abbott's executive order caused confusion and concern in Louisiana regarding just how these stations operate. And Baton Rouge attorney Everett Baudean said the Texas government's lack of transparency about its enforcement policy is disturbing, The Advocate, based in Baton Rouge, La. reported last week.
What if I don't have a Mandatory Self-Quarantine form?
If you do not have an Arrivals from Areas Designated for Mandatory Self-Quarantine form with you, then you will be given a form to fill out. At the bottom, it asks where you will be quarantined for 14 days after entering Texas. Troopers from the Texas Department of Public Safety gather the required forms from motorists they stop at the border.
The executive order states, "using a form to be prescribed by DPS, each covered person shall designate a quarantine location in Texas, such as a residence or a hotel, and provide a full name, date of birth, home address, telephone number, and driver license or passport information."
Before you hit the road, you can print the online form here.
What about essential service workers?
Abbott's order doesn't apply to motorists traveling in connection with commercial activity, health response, emergency response, military service or critical-infrastructure functions. According to the Texas Division of Emergency Management website, if you or your company falls within the essential services categories as defined by Texas Executive Order GA-14, you are exempt from the travel-related 14-day quarantine requirement.
You can print a travel exception form here.
Abbott's order also reads, "each person covered by this order to self-quarantine shall be responsible for all associated costs, including transportation, lodging, food, and medical care."
What if I have a doctor's appointment or need medical care while visiting Texas and in quarantine?
It's a bit vague. The executive order states a covered person shall not allow visitors into or out of the designated quarantine location, other than a health department employee, physician, or health care provider, and shall not visit any public spaces.
According to an ongoing count by Johns Hopkins University, 133,226 Texans have been tested for coronavirus. In Texas, 13,906 coronavirus cases have been reported. The Texas Department of State Health Services estimates 2,269 have recovered from COVID-19.
Louisiana Gov. John Bel Edwards said he understood why other governors might impose restrictions on people coming from his state given the rapid surge in cases, Politico reported in late March.
"I am encouraging people from Louisiana to stay home," Edwards said.