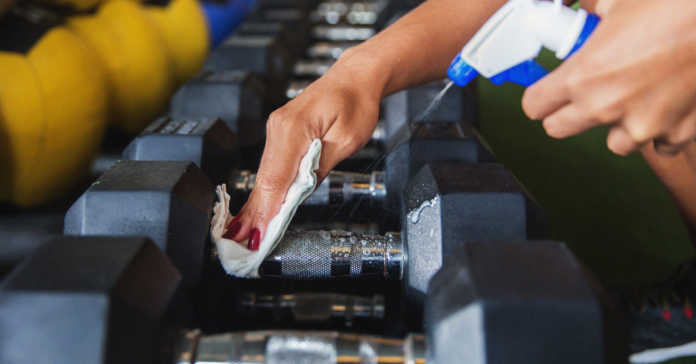 Today is the day gyms and exercise facilities in Texas can reopen. Gov. Greg Abbott announced that gyms will be able to open with 25 percent capacity. Here's what you should know before you go.
Gyms must stick to guidelines from the Centers for Disease Control and Prevention. Because social distancing means staying at least six feet apart from other people, treadmills and other equipment should be farther apart than in the past. 
Abbott said fitness centers should provide disinfecting wipes and sanitizer and should have soap and water available for customers at all times. Also customers will be required to wear gloves while using fitness equipment.
Restrooms will be open, but showers and locker rooms are to remain closed.
Texas' checklist for reopening gyms also includes guidelines for proper food handling at gyms.
"If a gym or exercise facility or class provides a meal for employees and/or contractors, the gym or exercise facility is recommended to have the meal individually packed for each individual," the state-issued document says.
Be prepared for safety measures to be different at different locations. One facility might be taking temperatures while another might require reservations, ABC13 reported.
Calling your gym ahead of time to see how they are handling lines, in-person classes, and social distancing would be ideal before grabbing your gym bag, mask and gloves. 
A Trainer's Advice
"Hopefully all exercise establishments have planned for a re-opening," Brice Remaley, a Houston-based personal trainer with decades of experience wrote in an email to RA News. "The Core in Houston has increased distance between resistance machines and installed sneeze guard-type shields to provide an extra layer of safety to guests while working out."
"Having supplies on hard to disinfect hands, as well as equipment, is smart, but the higher-end gyms aren't going to assume that guests will adequately disinfect equipment. They are going to have more staff on hand to attend to these house cleaning chores regardless of the client's follow-through," Ramaley wrote.
Want some workout advice? "Remember to lift heavy weights and eat clean. Repeat," Ramaley wrote.
Inspiration
Maliek Derstine, the manager at Ignite Fitnez in Austin, shared this quote on Monday through an email to get everyone inspired to stay healthy during these uncertain times: "Feeding the mind and body through physical fitness is what powers the soul."
The chance to reopen at 25 percent capacity doesn't mean every fitness center is open. For example, Black Swan Yoga in Houston isn't reopening its studios at this time, but it does offer streaming classes.