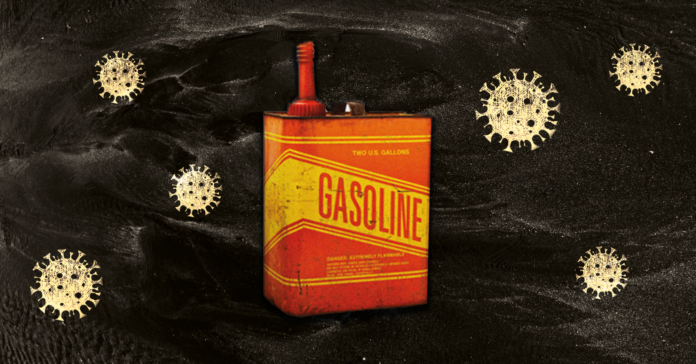 Oil is king in Texas, but lately, it's been selling at pauper's prices. Consumption has fallen to its lowest point in history, creating a surplus of supplies that has driven prices down to record lows.
As of Wednesday, the price of West Texas Intermediate crude was about $25 a barrel, compared with $64.40 a year ago.
There was a ray of hope Thursday when Russia and Saudi Arabia agreed to cut production. The announcement eases a monthlong price war between the two countries that was already impacting the global market before COVID-19 hit. Stay-at-home orders and the corresponding decline in consumption caused by the pandemic have exacerbated matters.
The Texas Railroad Commission, the state agency that regulates the oil and gas industry in Texas, is scheduled to meet Tuesday to decide whether to cut the state's production. The commission has not used its authority to cut production since the early 1970s.
Parsley Energy CEO Matt Gallagher is among those asking for production cuts, predicting in a late-March story in the Houston Chronicle that without regulatory action to stabilize activity in the oil field, many oil companies, drilling rig operators and related services that employ 361,000 people in Texas will go out of business.
"The resulting shutdown shock is going to be so dramatic that smaller operators, higher-leveraged operators and the service sector would not be able to recover," Gallagher told the Chronicle. "I think the situation requires urgent and immediate action."
Others in the industry favor a survival-of-the-fittest approach where the market decides who is left standing.
In an opinion piece, Railroad Commissioner Ryan Sitton laid out three options: Doing nothing, instituting a boycott, tariff or embargo on foreign crude, or a more cooperative approach of working with other countries on a plan to cut production worldwide. All three ideas come with pros and cons.
Sitton appears to be signaling that he favors the more cooperative approach.
"When the Russian Oil Minister, Alexander Novak, called me last week, I told him we are healthy competitors in oil today, and we will be again when this is all over, but for now, I believe that we should work together to make sure that the world has a stable supply of affordable, reliable energy until we have overcome this common foe," Sitton wrote in the Houston Chronicle the day before Russia and Saudia Arabia agreed to cut production.
Due to social distancing, the commission's meeting will be held virtually, starting at 9:30. Those interested in watching can tune in via the Railroad Commission and AdminMonitor websites. Public comments can be submitted in writing ahead of time. No in-person testimony will be accepted.