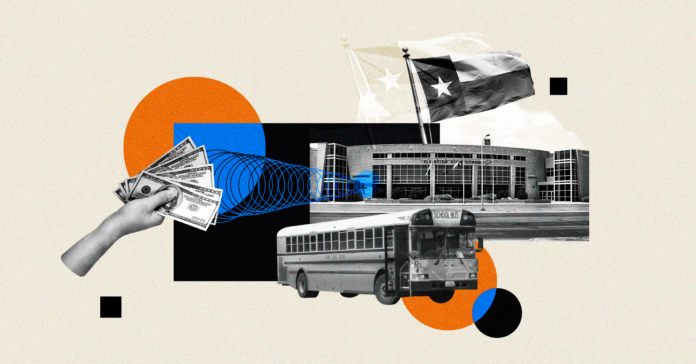 Texas school districts will finally get some relief. Texas Education Agency Commissioner Mike Morath has announced that starting in June, Texas schools will receive $1.29 billion in federal relief because of the coronavirus pandemic.
These relief funds will help school districts prepare their budgets for the 2020-2021 school year.
The CARES Act and Elementary and Secondary School Emergency Relief Fund will be distributed based on the scale of student poverty at schools, and the relief also can prevent budget cuts and layoffs. According to a TEA's CARES Act funding facts, schools can use the relief funds to "address the unique needs of low-income children or students, children with disabilities, English learners, racial and ethnic minorities, students experiencing homelessness, and foster students including how outreach and service delivery will meet the needs of each population."
The Texas Education Agency's website shares the breakdown of how much Texas school districts will receive. Here's a peek below, and you can search for how much relief other Texas school districts will receive here.
Boles ISD, north of Dallas, one of the poorest school districts in Texas, will receive $105,282 thousand dollars in relief aid.
Texas' largest school district, Houston Independent School District, will receive over $81 million.
Amarillo ISD will receive $7,120,966.
El Paso ISD will receive $19,687,855.
San Perlita ISD, which was ranked one of the poorest districts in the nation by USA Today, will receive $119,022.
One of the top-rated school districts, Highland Park ISD in Dallas, will receive $165,413.
One rural school district, Snyder Independent School District in West Texas, will receive $473,302.
Schools that are keeping track of coronavirus-related expenses will also be reimbursed.
Clay Robison, a spokesman for The Texas State Teachers Association, said in a statement Friday, "The Texas State Teachers Association is happy to see the distribution of emergency federal funds to school districts under the CARES Act, but it is only a down payment because it doesn't come close to covering school district losses during the pandemic."
"The U.S. House has approved a more far-reaching bill, called the HEROES Act, which would spend more money, including $90 billion for elementary and secondary education as well as higher education, plus additional billions for other needs," he said.
Robison said the association supports that bill, which would provide significantly more emergency funding for Texas schools and students, but the Senate leadership is holding up the bill.
"The needs are real, and we encourage Texas educators and parents to send emails to Sens. John Cornyn and Ted Cruz to remind them of that fact. Approve more funding for schools, governments and consumers who have suffered huge losses during this pandemic. They need the help."