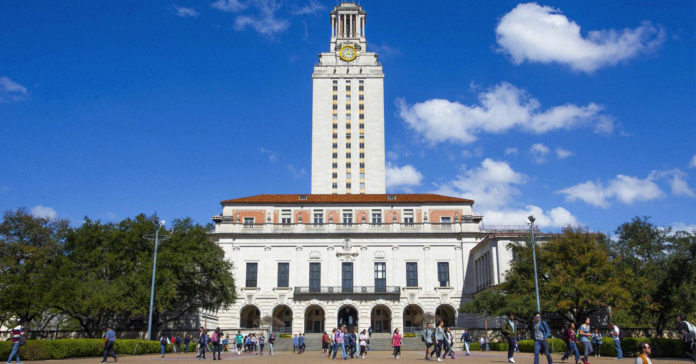 As of right now, Texas universities are planning on being open for the fall semester. However, they will be dealing with budget problems brought on by the COVID-19 pandemic.
University of Texas System chancellor J.B. Milliken took part in a Texas Tribune livestream on Thursday, and one of the many questions he fielded was regarding the budgetary effects the pandemic has had on his school. He assured people that UT will be open after the summer.
"It's not when we'll open in the fall, but how," he said. "It will be in a way that is safe. It won't be like last fall, but it won't be like this spring either. … Everyone wants to restart that fabulous university and college experience as soon as we can, but we want to do it in a way that is safe."
The university has been working hard to accommodate the new normal brought on by pandemic and associated protective measures such as social distancing. The Austin campus provided 700 laptops to students so they could utilize learn-from-home protocols, and other campuses have set up internet hub locations with struct social distancing guidelines in place. Online courses have also been discounted.
That said, there's no getting around the fact that this has taken a toll on UT. The CARES Act has helped. Roughly $1 billion of it is earmarked for Texas higher education, with around $170 million heading to UT specifically. It's softened some of the financial blows brought on by the school's refunding of $22 million worth of residency, dining and parking fees, but the budget is still expected to come up short.
"UT Austin has spent more in refunds than they will receive from the CARES Act," Milliken said. "We are not going to come out ahead because of the act. It is not going to put our institutions on budget."
Sports is another area under consideration. The loss of profitable sporting events is particularly devastating in football-worshipping Texas, and schools are having to consider how they will proceed. Though the NFL has already planned to go ahead without any changes in the fall, Milliken can't be sure of the future for schools. Sports, he joked, is one of the few areas above his pay grade, and will have to be determined by the NCAA and the conferences. The school will not be hosting events if they endanger students or visitors, he said.
"It's hugely important," said Milliken. "UT Austin is one of the most profitable athletic enterprises in the country. But it's not anywhere near as important as the health and safety of our students. While we are thinking about all aspects, paramount is our dedication to health and safety."
Texas A&M University and other colleges are also feeling the pinch from lost sports events. The grand total in lost gate receipts and concessions likely won't be known until the fall but is likely to be considerable.
Half the money that is coming from the CARES Act is going directly to students for aid. UT has made $76 million immediately available to students as grants, with the remainder to be spent on operations in a manner to be decided later, possibly after new guidelines from the Texas Department of Education have been drawn up. Other schools are also spending half on student aid, including Baylor ($5.3 million) and A&M ($20 million). Not every school is fully reimbursing students for lost services, though. University of North Texas in Denton paid back students for housing but only offered meal credits. UNT received $29 million from the CARES Act.
Nonetheless, belts are likely to be tightened.
Rice University as a private institution does not generally disclose budget numbers, but Director of News and Media Relations Doug Miller said that Rice has imposed a hiring freeze and informed employees they won't get pay raises in the next fiscal year. However, no one has been furloughed and nobody's compensation has been cut.
Another private school, Baylor, announced more drastic cuts of up to $85 million in the school budget. The limitations include a hiring freeze, decreasing the employee retirement plan, eliminating overtime and halting construction. Some cuts to athletics are also possible.
"Despite Baylor's overall strength and resilience, we are now experiencing declines in many essential sources of revenue, which is coupled with an increased need for student financial aid and uncertainty about future enrollment due to COVID-19," Baylor President Linda A. Livingstone said in a statement. "In other words, most of our previously reliable sources of revenue — tuition and fees, fundraising, athletics and income from our investments and endowment — are certain to be significantly affected."
One area of hope came from Milliken, who said that the remote learning technologies that had been implemented this spring might be used during normal school operations to enable more students to attend in spite of hardships. However, you can't Zoom a football game, and we'll have to see how schools will deal with the financial loss should the pandemic extend into the season.