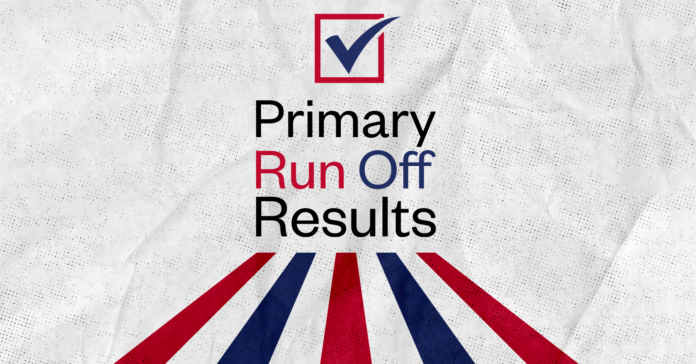 Finger condoms, masks, more Democrats than Republicans, some upsets and a few glitches. That was Texas' first go-round with voting during a pandemic.
The state's midsummer primary runoff election took place Tuesday amid a backdrop of surging COVID-19 cases, worries about the economy and the start of school and more interest in the November election than runoffs for down-ballot judicial and county commissioner races.
Voters found the experience a little different. There were social distancing markers on floors, plexiglass between voters and poll workers, finger condoms and styluses to avoid touching the surfaces of p voting machines, hand sanitizer and a lot of guidance on where to go and when. For the most part, in-person voting went better than most had expected.
As for problems, some voters reported difficulties with mail ballots, the Texas secretary of state's website had issues posting results last night and a couple of counties had poll workers say "no thank you" and didn't show up because of fears of catching coronavirus.
Democrats outpaced Republicans for turnout by about 30%, setting a new Democratic record for a runoff election.
"In the middle of a pandemic, Texas Democrats showed we are ready to win with nearly a million Texans doing whatever it takes to have their voice heard," said Democratic Party of Texas Chair Gilberto Hinojosa. "We broke the Texas Democratic record for turnout in a runoff election, more than doubling our 2018 runoff turnout."
Top of the Ticket
Political newcomer MJ Hegar bested longtime Texas Sen. Royce West to win the Democratic nomination and the right to take on incumbent Republican U.S. Sen. John Cornyn in November.
"I am humbled by the support we have received from all across the state and am confident we have a decisive victory," said Hegar. "Together, we are mounting a Texas-size winning campaign that will take down Senator Cornyn and deliver real results on health care, racial justice, economic opportunity, climate change, immigration, and gun violence."
Cornyn responded with the following: "It took millions of dollars in outside money to help Hollywood Hegar clinch the Democratic nomination. In reality — and without special effects — her candidacy isn't very impressive. She was passed over for endorsement by grassroots leaders across the state and nearly every elected Texas Democrat."
Upsets
Three incumbents in the Texas House, two Republicans and one Democrat, were ousted yesterday.
Anna Eastman lost the Democratic nomination in the Texas House District 148 race to Penny Morales Shaw, who ran with the support of the district's former representative Jessica Fararr, who resigned last year.
State Rep. Dan Flynn (R- Canton) was bested by challenger Bryan Slaton, and state Rep. J. D. Sheffield (R-Gatesville) lost to Shelby Slawson.
The head of the Texas Legislative Black Caucus State Rep. Harold Dutton (D-Houston) survived a challenge from Jerry Davis, a Houston City Council Member.
There were about a dozen other Texas House runoffs.
Every Texas House seat and every Texas Congressional position is on the ballot for November.
Democrats are hoping to flip the Texas House this year. They need to win nine seats to do it.
The Rest of the Ballot
Democrat Chrysta Castañeda won the right to represent her party in the Texas Railroad Commissioner race. She will face Republican Jim Wright in November. 
The Texas Railroad Commission regulates the oil, gas and mining industries in the state but has not actually regulated railroads in Texas since 2005.
Lani Popp beat Robert Murrow for the Republican nomination for the Texas Board of Education. That seat is believed to be competitive for November. The Democratic nominee is Rebecca Bell-Metereau, a Texas State University English and film professor.More results from yesterday are available here.