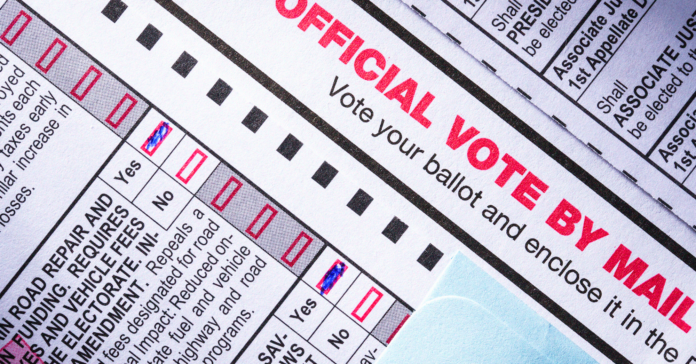 Texas Democratic Party Chair Gilberto Hinojosa has one question for Texas Attorney General Ken Paxton: Why is he fighting so savagely to prevent expanded voting by mail in Texas during the pandemic? Hinojosa says Paxton's behavior is contrary to what the voters want.
"The likelihood will be that if people are required to go vote in person in November and even in this [July] runoff election, the line will be long, the number of polling places will be less, and the time to vote will take that much longer, increasing the possibility that a voter will subject themselves to this deadly disease," said Hinojosa. "That's not right, and it's not right that we are forcing Texans to do that."
Hinojosa's comments came in a virtual news conference that followed two hours of oral arguments in federal court.
Citing more than 10,000 documents that have been submitted as well as four friends of the court briefs he needs to sift through, Judge Fred Biery says he does not know when he will have a decision.
The federal lawsuit, one of several pending over the vote-by-mail issue, was filed in the U.S. District Court in San Antonio by the Texas Democratic Party against Gov. Greg Abbott, Secretary of State Ruth Hughs, Bexar County Elections Administrator Jacquelyn Callanen and Travis County Clerk Dana DeBeauvoir.
During today's hearing, Chad Dunn, attorney for the democrats, argued that time is of the essence because voters are already submitting applications for mail-in ballots. He says the state, by continuing to fight against expanded mail balloting, is advocating a survival-of-the-fittest election.
"Those who are willing and able to take the most risk will have their votes securely counted and those who would have preexisting conditions, concerns about being prosecuted or cohabitate with others that are in danger are left out of the electoral process," Dunn said.
Attorneys for Abbott told the judge the July election cycle is already well underway and it is too late for the federal court to intervene. They say work has begun and will continue to ensure the safety of in-person voting for the July 14 election.
Today's hearing in federal court follows a victory for the Democrats in state court Thursday, when the 14th Court of Appeals upheld a state district court judge's decision to allow any voter with coronavirus concerns to request mail ballots.
Under existing state law, you must be 65 years or older, disabled, out of the county on election day and during early voting or be confined in jail in order to request a mail ballot.
Paxton has been fighting tooth and nail to prevent any expansion of voting by mail. His latest move came earlier this week when he asked the all-Republican Texas Supreme Court to decide the matter.

Republicans have long-opposed expanded voting options, fearing they could boost turnout for low-income, minority and young voters, who tend to lean Democratic