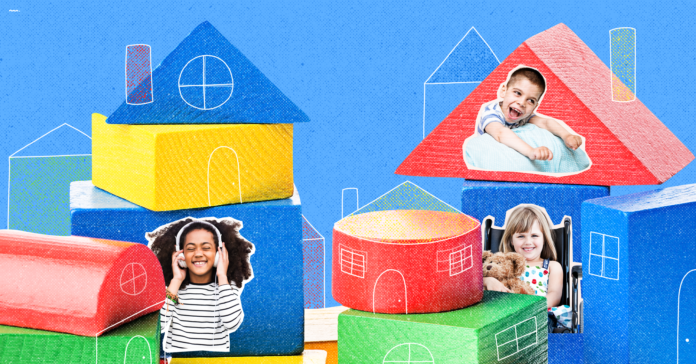 One out of 59 children in the United States is autistic, and more than 7 million children live in the Lone Star State. While districts across Texas scramble to prepare digital resources for their students while they are at home, we can't forget the families with kids who have special needs.

Here are four recommendations for supporting children with autism at home. Below we offer additional resources.
1. "Keep a simple schedule. All children benefit from being in environments with predictable routines, and children with autism may have an even greater need for structure at this time," wrote Micheal Sandbank, PhD, Assistant Professor of Early Childhood Special Education and Director of the Brain and Language Lab, and the Lead Researcher on Project AIM (Autism Intervention Meta-analysis) at the University of Texas at Austin.
Put the schedule on the wall. Use visuals if possible, and refer to it throughout the day, Sandbank said.

"Experts recommend balancing active and quiet periods, and adult-led and child-led times. Try to break up blocks of screen-focused activities with physical activities that the child enjoys. Stick to the schedule every day as best as possible."
2. Use visuals to support communication.
Sandbank encourages caregivers to use other methods of communication besides speech.

"For children that do not use much speech as the primary mode of communication, it is important to provide other modes of communication to the maximum extent possible. These can include low-tech options like picture symbols that can be exchanged or pointed to, as well as high-tech options like iPads that employ alternative communication apps such as LAMP and Proloquo (though these can be expensive and caregivers may need support from professionals to learn to use them)."

"Some caregivers fear that young children that begin to rely on nonspeech communication will never learn to talk, but we know from research that the opposite is true," she said. "Supporting alternative communication can actually help children with autism learn to use speech to communicate if that is in their developmental future. Just as caregivers model speech for young language-learning children, they can model alternative communication by pointing to picture symbols as they talk – this is called aided language input. They should work with their educational support teams, particularly with speech language pathologists, to chart a way forward for supporting communication for their individual child."
3. Advocate for your child.
Children with disabilities who attend public school have the legal right to receive individualized educational support.

"While schools are still attempting to navigate what this will look like during this pandemic, parents can begin talking to their support teams now about what will be done to ensure that those supports continue in some form during this break. That may include Telehealth, as well as compensatory services provided when children return to school." Sandbank wrote. "It is also a good idea to ensure that whatever teams and families discuss is put in writing, so that it can always be referenced in the future. Zoom Pro allows meetings to be automatically recorded to the cloud and transcribed, so this is a great option if families and school officials wish to hold meetings remotely. "

Parents are stressed these days. One parent on Twitter had a message for Katy Independent School District.

I'm supposed to keep working full time, continue to pay for childcare, home school my son who is in Special Education, using online courses and be a teacher?! My mental health is a wreck!! @katyisd

— simplii_JB (@JbSimplii) March 24, 2020
And would the stimulus bill Congress is working on help or hurt?
@amyklobuchar @TinaSmithMN Is it true that the stimulus package includes language to eliminate special education benefits? Eliminate IEP and the like? How can this have any impact on the economy? There is no need to put the lives of SpecEd at stake!

— Daniel Krueger (@Daniel_Krueger) March 24, 2020
4. Be gentle with your child and yourself at this time.
"This is a difficult time for everyone, and it's OK if the switch to homebound life is a bit messy. There will be good days and bad days," Sandbank said.

"Many caregivers are making this switch while also trying to work from home. Others have lost their jobs and are wondering how they will continue to make ends meet. It is not reasonable to expect that caregivers maintain business as usual for their children under these conditions. Caregivers should give themselves permission to prioritize the safety, physical health, and mental wellbeing of everyone in the household above all else."

Also, tips 1, 3, and 4 will be most relevant for all families of children with disabilities.
More Resources

Special education needs vary by student, wrote Texas State Teachers Association President Noel Candelaria.

"Educators are working tirelessly to make accommodations to meet the needs of individual students, but the reality is that many of our special education students need help with more than academics. They also have social and emotional needs that must be met. This level of support requires one-on-one and/or small-group learning environments."

"These requirements already were a challenge for special education teachers, who over the years have seen their student/teacher ratios increase as funding cuts have forced districts to reduce special education staff," Candelaria said. "Every student in special education has an Individual Education Plan that was developed for them individually to ensure their personal social, emotional, and academic growth."

"As special education teachers, we must navigate lessons and ideas that have to be personalized for individual students instead of a general approach to instruction. This is why we have been advocating equity for all students during this crisis and our responsibility to the needs of every student, not just the majority."

The Texas Education Agency's Special Populations page offers a lot more information about education during the pandemic. TEA also has a Special Education FAQ document that addresses several situations with COVID-19 in mind and can assist families. More guidance may come, a TEA official told RA News.
Sandbank said the following resources might also be useful.
A toolkit created by experts at UNC Chapel Hill: https://afirm.fpg.unc.edu/supporting-individuals-autism-through-uncertain-times
Information about low-tech symbol support and aided language input: http://www.project-core.com/
Applications that can be used to turn iPads into speech generating devices: https://aacapps.com/ https://www.assistiveware.com/products/proloquo2go
A local organization that helps families of children with disabilities navigate the education: https://velafamilies.org/
One article that may help families with special needs children is "Creating a new normal for kids during the uncertainties of COVID-19."