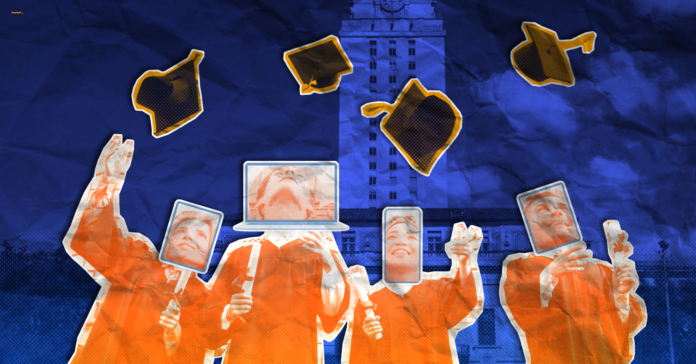 It won't be what everyone is used to, but there will be pomp and circumstance in Texas this year after all.
Up until now, only completely virtual graduation ceremonies were anticipated due to the COVID-19 pandemic, but under Gov. Greg Abbott's latest executive order, the rules will loosen up a little on May 15.
The available options include video graduations where students gather at a school, another indoor venue, or an outdoor venue individually or in small groups, with or without family members, to be filmed and to have photos taken in caps and gowns walking across the stage to receive their diplomas. Speeches from commencement speakers, students and faculty members could be pre-recorded and uploaded into a clickable graduation program.
Some schools are choosing drive-thru graduations, in which students and their families participate from their vehicles. The graduate and family members would drive to a stage where the graduate would exit the vehicle to receive a diploma from an administrator or dignitary wearing gloves.
Denton County schools in north Texas will be conducting drive-thru ceremonies at the Texas Motor Speedway, which usually hosts NASCAR events.
In the Alvin Independent School District, there will be a virtual graduation this month and then an in-person ceremony where students walk the stage in mid-July.
Katie Faour is a senior at Bellaire High School in Houston, where they have already decided to move prom to July. She wants a traditional in-person graduation ceremony even if it means she has to wait. She says it's been tough to be a senior while all of this is going on.
"I know some people are super upset, and if it's the least we can do to have a normal prom and a normal graduation, then that would be nice," said Faour.
Faour's brother Will, a senior at the University of Houston, has a different view. He believes waiting will reduce the significance of it.
"It's kind of disappointing, but I do think it needs to stay virtual because I don't really feel safe doing anything more than that right now," he said.
In-person graduations are not allowed until June 1. The exception is rural Texas counties where coronavirus cases have been limited.
Social distancing is required — even for outdoor ceremonies.
So far, the governor has not set a date when in-person indoor graduations will be allowed.
The Texas Education Agency's guidelines for graduations during the pandemic are available here.