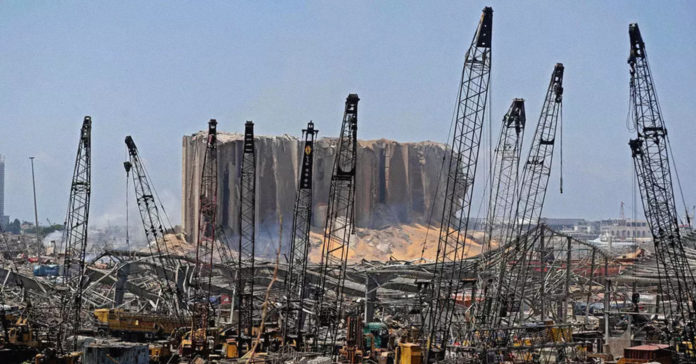 After last week's devastating chemical blast in Beirut, numerous media outlets were brimming with accounts of the tragedy reaching back in time to provide examples of explosions that could help contextualize the shocking incident. Some of those examples hit close to home.
This region of the country is well-acquainted with calamitous fertilizer experiences. In particular, ammonium nitrate, which was the chemical responsible for the Beirut catastrophe. What's the likelihood of this happening in Texas? The answer is in the policies, data and geography.
In 1947, there was the Texas City fulmination, in which more than 500 people died after several fires eventually reached a Monsanto chemical plant, according to Houston Public Media. Ammonium nitrate was involved. In 2013, 15 people were killed and more than 200 injured in an explosion at a fertilizer plant in West, Texas. Again, it involved ammonium nitrate. Two-thousand tons of it.
"Smoke emerges over the city as yellow flames reach towards the sky, A few seconds later an explosion and its resulting pressure wave leave death and destruction in its wake." wrote Katherine Lemos, chairman of the United States Chemical Safety and Hazard Investigation Board (CSB), in a recently issued press release. "As details of Tuesday's accident continue to emerge, one thing is clear: we have seen this before."
CSB concluded the West, Texas explosion and fire was a result of improper storage and handling of ammonium nitrate and today storage of the fertilizer is still subject to a cluster or assortment of federal standards and guidelines that are full of holes Lemos said.
More malevolent was the Oklahoma City bombing in April of 1995 where more than 4,400 pounds of ammonium nitrate was used to take down the Alfred P. Murrah Federal Building and extinguish 168 lives. It still stands as the most lethal domestic terrorist act committed in the nation.
The laws in Texas regarding transparency, storage and transport of ammonium nitrate are unreliable and problematic, said Robin Schneider, executive director at Texas Campaign for the Environment, an environmental policy nonprofit organization, in an interview with Reform Austin.
"Our laws here on ammonium nitrate are very loose," she said.
Schneider's organization helped with a bill during the 2015 legislative session that sought to give the county health marshals greater authority to oversee the storage of ammonium nitrate and other dangerous chemicals. While it improved some of the requirements for storage, it failed to provide fire marshals in low-populated counties the power of oversight. Ultimately the legislation fell short of its goal to compel companies to explore and adopt the use of less harmful compounds.
"What we really want is preventative measures in terms of getting companies to use less dangerous chemicals, safer alternatives," she said.
In Houston, where chemical explosions and fires seem to be a common occurrence, the situation is critical.
According to a 2018 report, "Life At The Fenceline" authored by the environmental advocacy/policy groups Environmental Justice Health Alliance for Chemical Policy Reform, Coming Clean and Campaign for Healthier Solutions, there are 191 high-risk chemical facilities in the Houston area. That number far exceeded the other regions studied and examined in the report, which included Dallas; Los Angeles; Louisville, Kentucky; Albuquerque, New Mexico; Charleston, West Virginia; and three California counties.
Communities of color comprising low-income residents face inordinate risk from these plants, which aren't strictly regulated under the Environmental Protection Agency's Risk Management Plan program, reported Coming Clean.
Some of the alarming data points illuminated in the report indicated more than 3.5 million people in the Houston area reside within a 3-mile radius of a high-risk facility, which is a 92% increase above the national rate. Additionally, the majority of people who live in these areas are impoverished. Nearly 40% of Houston's population is Latinx, yet they represent 56% of the people living in low-income/low food access areas within 3 miles of a high-risk plant. The Black community totals 19% of Houston's population but encompasses 26% of the residents dwelling in low-income/low food access areas inside these threatening zones. And 78% and 72% of Houston's medical facilities and schools, respectively, are within 3 miles of a high-risk facility.
The West, Texas explosion prompted the Obama administration to address chemical safety issues through policy but in a twist of irony did not include ammonium nitrate, Schneider said.
Gov. Greg Abbott made the situation worse by not requiring the companies that use or stockpile hazardous chemicals to disclose that to the public, she said.
In 2014, when Abbott was the state attorney general, he ruled that the Community Right-to-Know Act requires plants storing dangerous chemicals to disclose that information within 10 days of any request made to the company by a member of the public. Conversely, he ruled that a list of plants using hazardous substances, such as the West Fertilizer Company, would not be available to the public citing a statute in the Texas Homeland Protection law.
"Under the Community Right-to-Know Act, they are supposed to have emergency planning committees which include members of the public and first responders," Schneider said. "That whole system is a total mess."