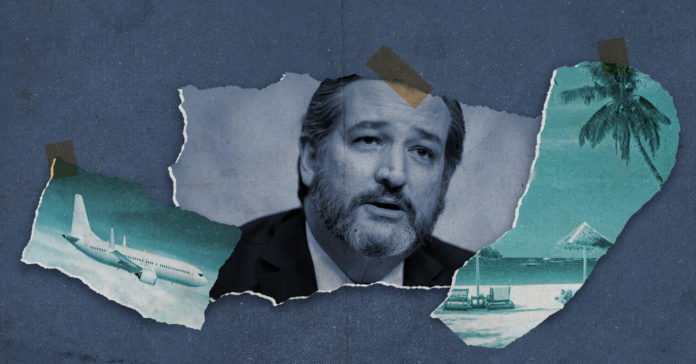 Ted Cruz has finally come up with a reason for fleeing the state to stay a couple of days in sunny Cancun while at least 4 million of his constituents are facing the worst winter in Texas recent history without electrical power.
He was reportedly flying first class with his family yesterday afternoon, but after a deluge of mockery from social media criticizing him for his lack of empathy for the people of Texas, the Senator released a statement saying he was only trying to be a good dad to his two daughters.
His kids wanted to seize the opportunity to visit Cancun now that the weather conditions forced schools to cancel classes for the week. Allegedly, Cruz was only dropping them off and was scheduled to come back tomorrow.
"My staff and I are in constant communication with state and local leaders to get to the bottom of what happened in Texas. We want our power back, our water on, and our homes warm. My team and I will continue using all our resources to keep Texans informed and safe," wrote the Senator.
While some Republicans are backing Cruz saying that he can't do anything about the storm anyway, Allen West, the Texas GOP Chair said in a tweet that Cruz will have to answer to his constituents.
Seeing as how Cruz is a U.S. Senator, Allen West is also a constituent, so his lack of condemnation is telling.
Social media is abuzz from rumors  he rebooked his flight back from Cancun for this afternoon at around 6 a.m. today. He was previously scheduled to return on Saturday. 
It's worth noting that the U.S. Senate is in recess right now, so some sympathizers of the senator came to his defense by saying "Senate is out, he can afford it. … What exactly is the problem?", and while there's nothing illegal about his actions, Cruz could definitely be doing more for the state that elected him. 
For instance, Cruz's former adversary for his Senate seat, Beto O'Rourke, has made over 151,000 calls to senior citizens in Texas, reaching out to offer help, food, and other necessities for those who are in need.
O'Rourke's efforts continue today, with hundreds of volunteers signing up for helping those having a hard time.