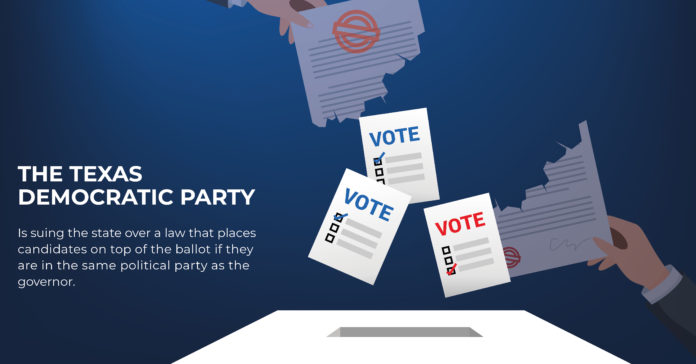 Texas Democrats have filed suit to overturn a 35-year-old state law requiring politicians in the governor's party to be listed first on Texas' general election ballots.
The lawsuit is the latest front in the Democrats' push to turn Texas blue in 2020. The Texas law was implemented in 1985, during Gov. Mark White's administration. Republicans have been quick to note that White was a Democrat and the original bill was authored by a Democrat.
Democrats are challenging the state law on the grounds of "position bias." For decades political scientists have known that where candidates' names appear on a ballot influences the number of votes cast.
Some studies show that ballot position can have a profound effect on down-ballot races where the candidates don't have a high amount of name recognition.
In some cases being listed first on the ballot can give a candidate a boost of up to 10 percentage points. Democratic Congressional Campaign Committee Chair Cheri Bustos issued a statement condemning Texas' decision to use the governor's political party to determine ballot position.
"Voters have the right to be represented by public servants who were elected because of the merits of their ideas, not because they belong to the same political party as their Governor," Bustos said.
Studies have shown that the 'ballot position bump' isn't as pronounced in races where the candidates have a high degree of name recognition, such as a U.S. Senate race.
Candidates in top of the ballot races may only receive a 2 percent increase from being listed first on a ballot. However, as Texas politics races have tightened a 2 percent increase or decrease has become a substantial difference.
After Beto O'Rourke lost a Senate seat to Ted Cruz by 2.6 percent of the vote, Democrats began to reexamine the rules of the game. One of the aspects of election law Democrats have taken issue with is ballot position.
"For over twenty years, Republicans have used dirty tactics and tricks like ballot order to retain power," wrote Gilberto Hinojosa, Texas Democratic Party Chair, in a statement. "Republicans in the state of Texas have benefitted from the unconstitutional advantage mandating that the party of the Governor is placed first on the ballot."
The lawsuit, which has multiple national Democratic Party organizations listed as co-plaintiffs, is only trying to invalidate the ballot laws for Texas general elections. Both the Texas Democratic and Republican parties have adopted a randomized ballot position system for their primaries.
The ballot position lawsuit follows another suit recently filed by the Texas Democratic Party in an attempt to strike down a ban on temporary early voting locations, many of which are on or near college campuses.