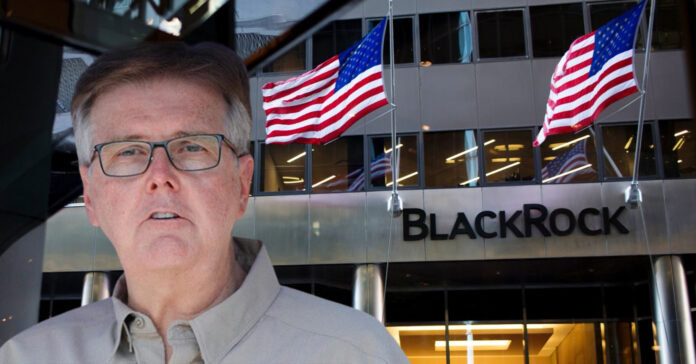 Lieutenant Governor Dan Patrick has spent nearly a year fighting against firms that "boycott" the oil and gas industry, demanding that Texas retirement funds divest from these companies, fixing most of his attention on "the worst offender," BlackRock. Patrick however, forgot to mention he happened to keep his own shares in the firm. Not just that: he also owned BlackRock mutual funds, first reported by Texas Monthly.

In recent years, Wall Street has started to welcome socially responsible "ESG" (environment, social, and corporate governance) investing. Blackrock and its chief executive are the leading voices in the movement.
Patrick shepherded Senate Bill 13 into law, charging the comptroller's office with compiling a list of offending firms exposing them to possible divestment by state pension funds. Hoping Texas could use the weight of its large retirement funds to turn Wall Street against ESG investing.

Patrick even singled out BlackRock by name in a letter to Texas comptroller Glenn Hegar: "As you prepare the official list of companies that boycott energy companies, I ask that you include BlackRock. "BlackRock is capriciously discriminating against the oil and gas industry.

Ending his letter with a statement: "Texas will not do business with those that boycott fossil fuels."

Ironically, at the end of 2021, Patrick owned shares in BlackRock, according to annual financial disclosures Texas Monthly obtained from the Texas Ethics Commission. On top of that, Patrick and his wife owned shares in several BlackRock mutual funds.

After the publication of Texas Monthly's article, Patrick's campaign issued a press release stating that he sold twenty shares in BlackRock, along with his holdings in three BlackRock funds, for $35,021.90 on January 21, 2022.

This would mean that Patrick sold these holdings seven months after SB 13 was signed into law on June 14, 2021.

Patrick also owned shares in several other companies that have taken pledges to use only renewable energy in the near future—including Apple, Meta, Microsoft, and Walmart. When asked about these holdings by Texas Monthly, Patrick's office gave no response.

But his financial disclosure showed that Patrick and his wife owned more than 10,000 shares in something called BlackRock FDS V – a legal entity owned by BlackRock that includes fourteen mutual funds, four of which are on the comptroller's list of banned funds, as reported by Texas Monthly.