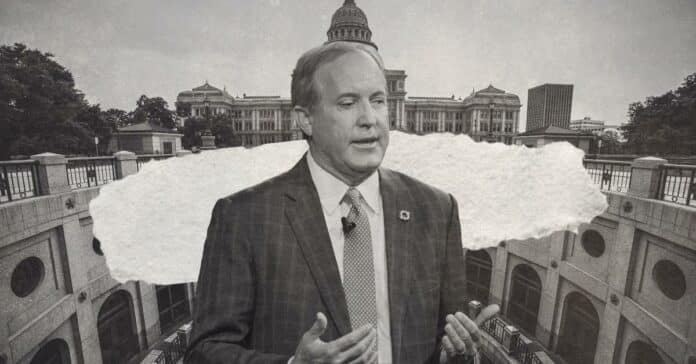 In the wake of the Senate's recent verdict acquitting Texas Attorney General Ken Paxton of 16 articles of impeachment, voices from all over the political arena have gone out to express their opinions on the matter, igniting a fierce debate that transcends mere legal proceedings.

A prevailing concern among many centers on the perceived impartiality of Lieutenant Governor Dan Patrick, casting a shadow of doubt over the integrity of the proceedings. Robert Downen from The Texas Tribune, in his analysis, has gone so far as to suggest that this impeachment trial has inadvertently fueled the "civil war" brewing within the heart of the Texas Republican Party, pitting staunch conservatives against what some have labeled as "RINO's" (Republicans in Name Only).

Even The Wall Street Journal, known for its conservative editorial stance, weighed in on the matter, highlighting the intricate dynamics of one-party dominance in a democracy, where the most heated political battles often unfold within the ruling party itself.

"What really happened Saturday is that Lt. Gov. Dan Patrick, who runs the state Senate, chose to rescue Mr. Paxton in a rebuke to his rival, House Speaker Dade Phelan. All politics is very local here," The Wall Street Journal's Editorial Board wrote.

They also pointed out that Lt. Gov. Patrick's bias was on display after blaming the whole impeachment trial on Speaker Phelan: "It's revealing that Mr. Patrick's statement dealt entirely with the impeachment process, not with Mr. Paxton's behavior." 

Speaker Phelan also expressed deep concern over Lt. Governor Patrick's apparent bias, stating, "I find it deeply concerning that after weeks of claiming he would preside over this trial in an impartial and honest manner, Lt. Governor Patrick would conclude by confessing his bias and placing his contempt for the people's House on full display."

3 Million Reasons To Acquit?

In June, before Paxton's impeachment trial Lt. Gov. Patrick, received $3 million in campaign from a top group campaigning against Paxton's impeachment.
In a campaign-finance report published in July, Patrick — who is not up for reelection until 2026 — reported a $1 million contribution and a $2 million loan from Defend Texas Liberty PAC.

Scott Braddock from Quorum report also called out Patrick for this campaign contribution, saying the impeachment trial outcome was easy to understand when looking at the $3 million stash.

"Paxton acquitted: Easy to understand. @DanPatrick took $3 million from Paxton supporters then aggressively put his thumb on the scale. He protected Paxton & his mistress from testifying, pressured the jury for a quick verdict by threatening them with sequestering them in the Capitol," Braddock tweeted on Saturday.

Meanwhile, Defend Texas Liberty PAC leader Jonathan Stickland, called for Speaker Phelan's resignation while Senators were still voting on Saturday.
"You and your band of RINOs are now on notice," Stickland tweeted. "You will be held accountable for this entire sham. We will never stop. Retire now."
Strong Precedent

In a statement Phelan expressed concern about the implications of the Senate's decision, stating, "It is unfortunate that the outcome of this process will ultimately relinquish control of the state's top law enforcement agency to an individual who, I believe, clearly abused his power, compromised his agency and its employees, and moved mountains to protect and benefit himself."
However, Speaker Phelan made it clear that this is not the end of the matter, as Paxton remains the subject of multiple lawsuits, indictments, and investigations. Phelan asserted that those who allowed Paxton to retain his office may have to answer for their decision if new facts come to light.

The Wall Street Journal echoed Phelan's thought stating that while the acquittal may be a gratifying triumph for Patrick over his House adversary, the long-term implications for Texas Republicans might not be as favorable.

They point out that one-party rule has often led to abuses of unchecked power and corruption in U.S. state governments, and if Texas voters draw a lesson from Paxton's acquittal, "the GOP's political dominance could be in jeopardy as Texas demographics change."
"While Texas voters still tend to lean right, revelations of corruption can transcend ideological lines when the ruling party downplays their significance," wrote Wall Street Journal's Editorial Board.