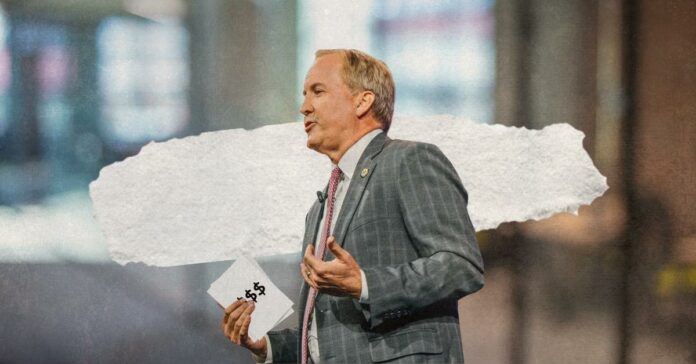 In the midst of a political battle, Texas Attorney General Ken Paxton, who is suspended from office, sent fundraising emails on the second day of his impeachment.

"With your help, I can be back in office by the end of the month," Paxton continues.

"Everything we've done could be reversed if we don't see a tremendous increase in support leading up to my September deadline. The woke mob in Washington and the establishment puppets in Texas are attacking me like never before."

In late May, Paxton faced immediate suspension from office, after the House charged him with 20 articles of impeachment, voting 121-23.

The charges against him include allegations of abusing his office to aid Nate Paul, a real estate developer and campaign contributor facing federal financial crime indictments, as well as conspiracy, bribery, and unfitness for office. In total, Paxton faces 20 articles of impeachment.

Paxton and his defense team have denied any wrongdoing from the beginning. Tony Buzbee, his top defense lawyer, has said his client was a victim of a "kangaroo court" and promised a long and vigorous fight against impeachment.

"Ken Paxton will never be convicted by the Senate," Buzbee said. "Not on this evidence. Not with this record. The fact is, these allegations are completely untrue."
Despite his suspension and allegations of corruption, Paxton has been breaking his own fundraising records, hauling $1.7 million since his impeachment in May.

Encouraging his supporters to contribute, Paxton has capitalized on his impeachment, appealing for even small donations. In a defiant statement, Paxton expressed his commitment to fighting against "Texas liberals and big government politicians," vowing to emerge stronger from the current adversities.

"Each battle I face I have been amazed and grateful for the support I have received from everyday Texans. Not only will we survive this latest attack but we will come out of this stronger than ever," Paxton said.
Noteworthy among Paxton's top donors is Gary Heavin, the founder of Curves International and a prominent GOP megadonor, Doug Scharbauer, an investor and horse racer from Midland, and three Midland oilmen, William Holmes, Kyle Stallings, and Tim Dunn.

The fate of Paxton hinges on the Senate's decision; if two-thirds of the senators vote to convict him on any article of impeachment, he will be removed from office. Moreover, the Senate has the authority to bar him from holding any elected office in Texas in the future.

It's worth noting that Paxton's wife, Senator Angela Paxton of McKinney, will not partake in the vote concerning her husband's removal.