Is Fort Bend Going Blue?
Partisans and journalists across the spectrum have been trying to read the tealeaves to determine Fort Bend County's political future since Sheriff Troy Nehls, U.S. Congressman Pete Olson (R-Sugar Land) and State Rep. John Zerwas (R-Richmond) announced their respective decisions to not seek another term or to retire.
Since Nehls is widely believed to be eyeing a run for Olson's seat, Texas politicos believe his decision not to seek re-election is part of the merry-go-round of Republican politics. However, Olson and Zerwas' decisions are being seen as a possible response to the shifting electorate.
Some diehards hand wave Democrats' claims that Fort Bend County will go completely blue in the next election as balderdash and bluster. The thing is, that no matter how hard people try to spin it, the numbers don't lie.
Over the last eight years Fort Bend County Republicans have watched their majority dwindle. In 2010 Zerwas won his district, which stretches from Katy to Rosenberg and from Simonton to Houston, with more than 70% of the vote. The next three elections Zerwas ran unopposed.
True, Zerwas did win in 2018, but he won with only 54% of the vote. With that large of a drop it's easy to see why Democrats are saying Zerwas' decision to go into academia was politically motivated.
Even candidates who have decided to stay in politics can't ignore how the numbers are trending. State Rep. Rick Miller (R-Sugar Land) won his first election in 2012 with 63% of the vote.
In 2018, Miller carried his district, which includes Sugar Land and Richmond, with only 52.4% of the vote. The same story is being told across Fort Bend County as a whole, as well as in the individual state house districts.
A quick look at Olson's victory margins over time shows why Texas 22 is a battleground district. In 2010 Olson won his district, which includes Fort Bend County as well as parts of Brazoria and Harris counties, with 67.5% of the vote. By 2018 Olson's margin of victory had shrunk to 51.4% of the vote.
With no incumbent in the running, the Cook Political Report officially declared TX-22 a "toss up" on July 25.
The Cook Political Report's decision hasn't stopped some Republicans from claiming that Olson's seat has always been a conservative seat and always will be a conservative seat.
Even after Olson's decision not to seek re-election, the hard-right Texas political blog RRH Elections still gave Republicans a 10-percent bonus in TX-22. The blog's authors never explained how they decided the Democrats face a 10-percent handicap running in a district they only lost by 4.9%.
When handicappers try to Monday morning quarterback Fort Bend County's upcoming elections, one of the things that's often overlooked is the lack of straight ticket voting.
The option to vote for an entire party's slate of candidates simply by ticking a single box was a pretty popular option across the state. In Texas' 10 largest counties, straight ticket ballots accounted for 64% of the total votes cast in 2016.
In Fort Bend County, 36% of Republicans and 39% of Democrats voted straight ticket in 2016. However, beginning in 2020 Texas will no longer allow automated straight ticket voting.
Individual voters will still be able to vote for nothing but Democrats or nothing but Republicans, they'll just have to manually check each name to cast a ballot. Eliminating something that one-third of each party's voters took advantage of may seem counterintuitive.
The rationale for eliminating straight ticket voting was that voters would now be forced to evaluate candidates on their own merits, not on the basis of a letter behind their name.
Whether that's true or not remains to be seen, but after Fort Bend County went blue in 2018, some Republicans believed straight ticket voting was to blame.
How down ballot candidates will perform without straight ticket voting is something that's keeping the Texas political Internet buzzing.
Facebook
Twitter
LinkedIn
Related News
Texas has a habit of pushing women to the edge of the conversation, but when it comes to healthcare policy the state straight up throws them off a cliff. Examples
Read More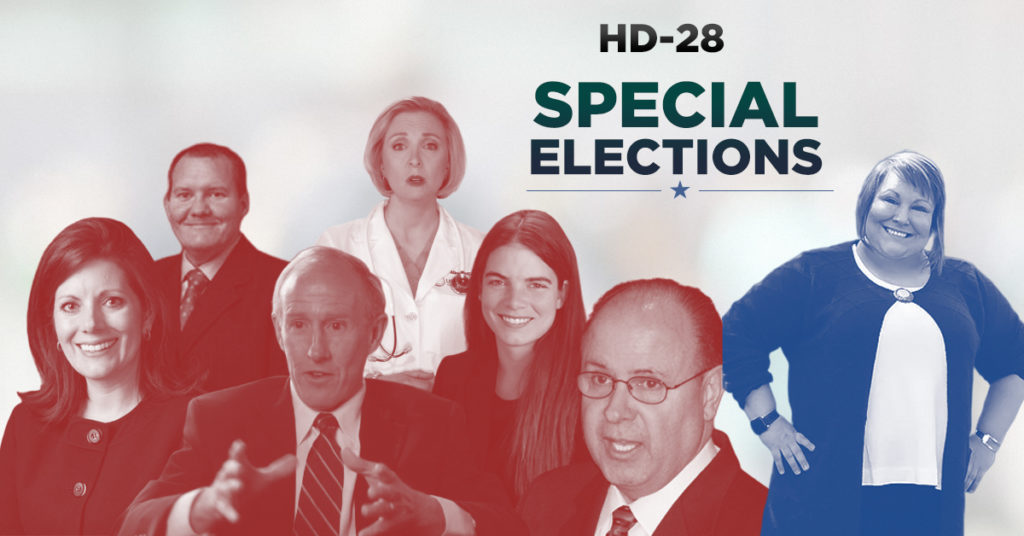 The filing deadline to run in the Texas House District 28 special election was yesterday at 5 p.m. The election will be held Nov. 5. And voters will head to
Read More

With upcoming elections in 2020, all eyes are on the Texas State House. For all the talk of Texas potentially going purple, some legislative seats are more politically vulnerable than others.
Read More