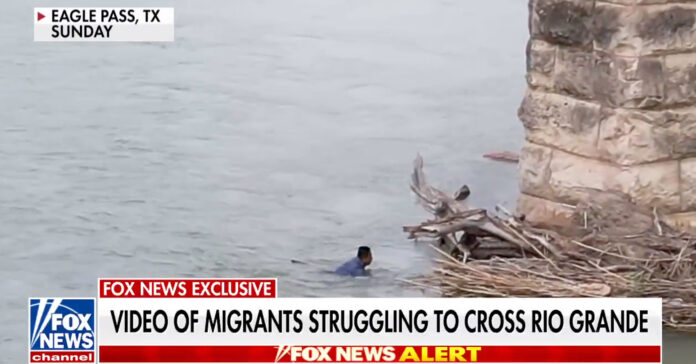 In the wake of Specialist Bishop Evan drowning while trying to save a migrant's life, Texas National Guard members stood idly by as a man from Nicaragua drowned in the Rio Grande in Eagle Pass.

Mexican authorities and National Guard service members witnessed the drowning and did not move a muscle as migrants screamed for help from the river's edge.

A Fox News reporter captured the migrants' final moments above water in a graphic video that was posted on Twitter. The footage shows a migrant clinging to a highway overpass while his friend frantically fights to reach another column before sinking a final time a few feet short of it.

The Fox News reporter said Gov. Greg Abbott's border mission members were ordered not to do water rescues after Evans' body was found on April 25.

Evans drowned on April 22 trying to save two migrants who appeared to be going under while crossing the Rio Grande. He vanished underwater and his body was recovered three days later.

Shortly after, The Texas Tribune and Military Times reported that troops along the river lacked flotation devices and rescue training. The agency's leader Maj. Gen. Thomas M. Suelzer told lawmakers that troops are advised not to jump in the water to avoid risks, as reported by The Texas Tribune.
The lack of guidance and equipment to perform life-saving rescues is leaving soldiers unprepared to deal with common scenarios at the border. Critics say it is also dehumanizing the migrants' lives.

Laura Peña, director of the Beyond Borders program at the Texas Civil Rights Project, said asking troops not to jump in the water to rescue drowning migrants "sends the message that migrants' lives are not worth saving."

"It's really very, very sad to think that the state of Texas has such little regard for people's lives who are at risk," Peña said. "They're risking everything to seek protection, safety, the American dream."