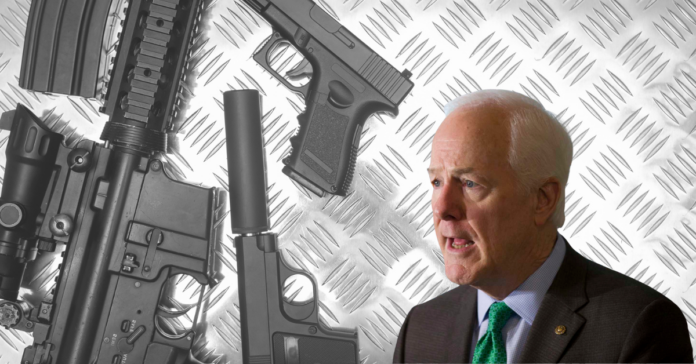 Senator John Cornyn was booed off the stage at a Texas Republican convention on Friday. He adamantly made a case for protecting gun rights, but in the eyes of the crowd, he was clearly a traitor.
"Democrats pushed for an assault weapons ban, I said no," Cornyn said. "They tried to get a new three-week mandatory waiting period for all gun purchases, I said no. Universal background checks, magazine bans, licensing requirements, the list goes on and on and on. And I said no, no, 1,000 times no."
They booed him anyway.
The reaction comes after Cornyn took point on the first gun reform legislation in over two decades. After the massacre at Robb Elementary School in Uvalde which killed 21 people, 19 of them children, some minor gun control might actually pass the Senate. Not only did Cornyn lead the charge by discussing the plan with President Joe Biden, but he also convinced nine other Republicans to pledge support. That, combined with promises from conservative Democrats Senators Kyrsten Sinema and Joe Manchin, appeared to secure passage of the legislation once it is eventually written.
However, Cornyn appears to already be getting cold feet. Besides his chilly reception in his home state, Cornyn walked out of negotiations on Thursday. He seemed to feel that the window for passage was quite brief.
"We're about run out of our rope here, and we got to make some final decisions today if we're going to be able to get this on the floor next week," he told radio host Hugh Hewitt.
There is some speculation inside the beltway that Cornyn is using the gun control debate to position himself as a possible successor to Senator Mitch McConnell as leader if the Republicans take back the chamber in the mid-terms. Reportedly, some of his Republican colleagues, including fellow Texas Senator Ted Cruz, feel left out of the discussions.
The broadly proposed initiatives, such as expanding red flag laws and increasing mental health funding, are overwhelmingly popular with most Americans, but are sacred cows for many Republicans. The framework of the law apparently does not include any bans on weapons or ammo or any of the other proposals most gun control advocates have pushed for decades.
Still, the bill is a major test of Cornyn's abilities if he is to be the top Republican in the Senate. Sources report that he aims to have a broadly popular bill that does more than limp over the 60-vote threshold. Republican lawmakers are currently caught between accusations of doing nothing from the left and demands to avoid gun reform at all cost from the right. With the Uvalde tragedy still fresh in many people's minds as the mid-terms draw near, it's possible that Cornyn could prove Republicans do care about gun violence if he pulls off a small bill.
It's worth noting that of the nine Republicans who have agreed to support the bill, four are retiring and none are up for re-election. With most primaries now completed, Republicans no longer need to fear attacks on their right flank. If Cornyn can lead a gun control bill to Biden's desk, it will be a major win for him politically even if the bill's actual effect is miniscule.