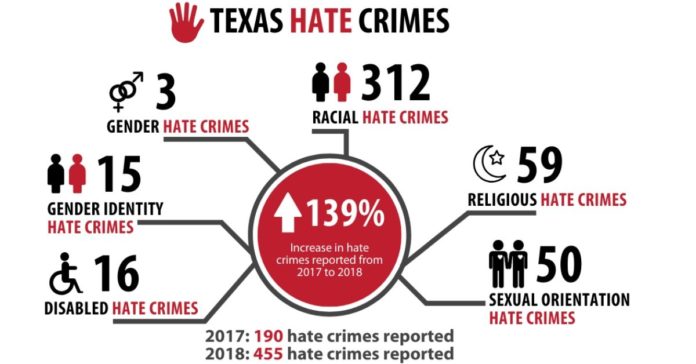 Texas hate crime reports doubled from 2017 to 2018.
The FBI's annual Hate Crime Statistics report, published on Nov. 12, showed a staggering 139 percent increase in hate crimes across Texas from 2017 to 2018.

Criminal offenses in which the offender is motivated by bias toward race, ethnicity, ancestry, religion, sexual orientation, disability, gender, or gender identity are categorized as hate crimes.

In 2018, 455 hate crimes were reported in Texas – nearly double the 190 reported in 2017.

The brutal murder of a Texas man named James Byrd Jr. in 1998 led to the passage of two hate crime laws. Byrd, an African-American, was kidnapped by three white men—John William King, Lawrence Russel Brewer, and Shawn Allen Berry—chained to a pick-up truck, and dragged for three miles.

In 2001, Texas passed the James Byrd Jr. Hate Crimes Act, and in 2009, the federal hate crimes statute was passed.

The Dallas/Fort Worth metro was a hot spot for these crimes, with 57 reported in 2018 compared to 27 in 2017.

Houston also saw a large spike in crime reports from 2017 to 2018, from 8 reports to 25 reports, respectively.

Experts have been concerned that Houston could be under-reporting hate crime statistics, due to the voluntary nature of police department reporting.

"These crimes are all reported on the basis of individuals reporting to police departments, police departments reporting to the state, and then the state reporting to the FBI. So it's a completely voluntary reporting system," said Mark Potok, a senior fellow with Southern Poverty Law Center.

This past session, Texas lawmakers proposed a bill to expand the state's 2001 James Byrd Jr. Hate Crimes Act to include transgender protections. The bill would have allowed courts to impose harsher penalties for criminal offenses motivated by bias toward one's real or perceived gender identity.

The bill was considered in public hearing but ultimately died in the Criminal Jurisprudence Committee.

The total number of incidents law enforcement agencies reported across the country actually decreased from 7,175 in 2017 to 7,120 in 2018. This begs the question—if hate crimes are decreasing nationally, why are they increasing rapidly in Texas?