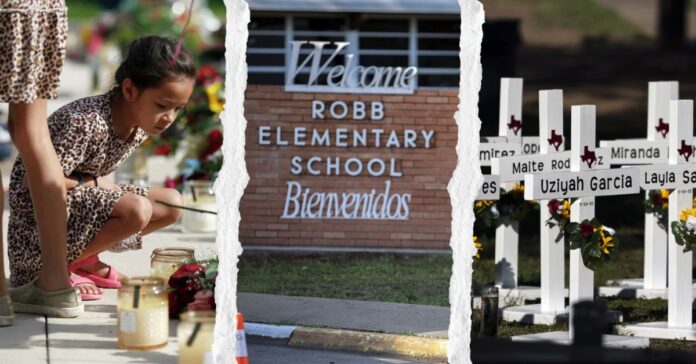 The Senate Special Committee to Protect All Texans released their report about the Robb Elementary School massacre this week. It included a recommendation to make straw purchases a state felony.
Created by Lt. Governor Dan Patrick, the committee heard testimony from a dozen experts and the public on matters of mental health, school safety, mental health, social media, police training, and firearm safety over the course of two hearings in June. Determining blame or consequences for police actions during the attack was not part of the committee's purpose.
One of those experts was Stan Standridge, Past-President of the Texas Police Chiefs Association (TPCA). Under questioning from State Sen. Royce West (D-Dallas), Standridge recommended Texas create a state law against straw purchases. A straw purchase is when someone buys a gun for another person so the intended recipient can evade background checks. There is already a federal law against such purchases, but Standridge testified that it was only prosecuted 2 percent of the time. According to the ATF, straw purchases are the most common method of gun trafficking in America.
"By simply mirroring the Federal law against straw purchases in the Texas Penal Code, the Legislature could provide an important tool to law enforcement to prevent illegal gun trafficking in the State and also potentially avert some of the future mass violence events," says the report. "The testimony in this hearing illuminated the multifaceted challenges faced by law enforcement in their efforts, and a state level straw purchase prohibition in law is a simple way to empower law enforcement in their work and keep guns out of the hands of those people already prohibited from having them."
The report stopped short of supporting other gun control initiatives. There was no consensus on raising the minimum age for someone to buy an assault rifle, something Governor Greg Abbott has vehemently opposed as an onerous restriction on constitutional rights.  
"Testimony highlighted that U.S. Secret Service reports on violence in schools have found that attackers have historically been between the ages 12 and 19 with few exceptions," the report reads. "However, there remains a strong lack of consensus of the Committee as to this idea."
The committee also did not recommend red flag laws, which prevent people with histories of domestic violence from buying to owning weapons. Two-thirds of mass shooters a history of domestic violence according to a recent paper in Injury Epidemiology. Expanding red flag laws was part of the gun control bill passed with bipartisan support in the U.S. Congress earlier this year, though state participation in the program was made voluntary. The committee heard expert testimony, including from Standridge, who supported expanding red flag laws.
Nineteen states have passed straw purchase laws, usually with bipartisan support and in the wake of tragedies similar to Robb Elementary in Uvalde. However, creating a "Second Amendment Sanctuary" in Texas was a key part of Abbott's re-election message. It's unlikely he will sign any bill that restricts gun purchases, even if the legislature acts on the committee's recommendations.