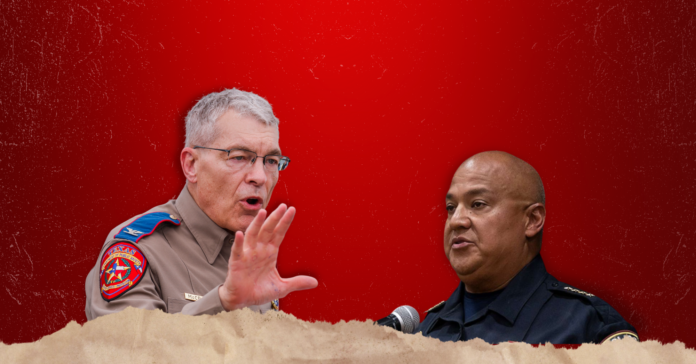 "Abject failure," were the words used by Texas Department of Public Safety Director Steven McCraw to describe the police response in Uvalde, specifically, of the on-scene commander: Chief Pete Arredondo.

During a special Texas Senate committee on Tuesday in response to the Uvalde school shooting that left 19 children and 2 teachers dead, McCraw said his department's ongoing probe had uncovered "compelling evidence" to suggest the police response was a failure.

McCraw started reviewing the timeline of the massacre and concluded that enough officers and equipment had arrived on-site "within three minutes" of the gunman entering the school to "neutralize" him. However, police waited one hour 14 minutes, and 8 seconds to breach the Robb Elementary classroom.

"One hour, 14 minutes, and eight seconds. That's how long the children waited and the teachers waited in room 111 to be rescued. And while they waited, the on-scene commander waited for radios and rifles. Then he waited for shields. Then he waited for SWAT. Lastly, he waited for a key that was never needed," McCraw said.

According to reporting in The Texas Tribune and Austin American-Statesman, preliminary evidence suggests none of the officers attempted to open either of the doors until moments before taking down the gunman. During the hearing, McCraw confirmed that he did not believe the classroom doors to rooms 112 and 111 were ever "secured," since there was no way to lock the doors from the inside.

So, even as the gunman could be heard firing rounds, officers with high-powered weapons and ballistic shields patiently waited for orders from their commanding officer.

"The only thing stopping a hallway of dedicated officers from entering rooms 111 and 112 was the on-scene commander, who decided to place the lives of officers before the lives of children," McCraw continued.
"The officers had weapons — the children had none. The officers had body armor — the children had none."

The delay in the Uvalde response raises questions about how many lives could have been spared if we had actually qualified leaders in charge. From faulty radios and "missing keys" to police officers who hung idly by in the hallway for more than an hour, ignoring the cries for help of the kids and teachers inside the classrooms. You can't help but wonder how many lives could have been spared without the delayed response from Uvalde police officers.

The first hearing is ongoing and will continue to discuss Uvalde's shooting timeline, school safety, police training, and social media.