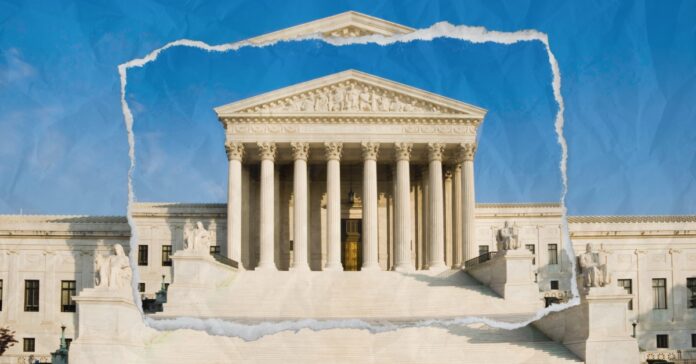 In a surprise win for voting rights activists, the U.S. Supreme Court breathed new life into the Civil Rights Act and may have paved the way to end Texas's gerrymandered district.
The case, Allen v. Milligan, came from Alabama. After the most recent U.S. Census, the congressional maps were redrawn in a way that reduced Black representation. Though Black people make up a quarter of the population of the state, only one district was Black-majority.
The decision was written by Chief Justice John Roberts, who was joined by Brett Kavanaugh and the three liberal justices on the decision. It found that the new lines violated Section 2 of the Civil Rights Act, which allows claimants to sue if they believe that lines are drawn to disempower racial minorities. Recent arguments, including the State of Alabama in this case, have attempted to make it so that racially oppressive districts should only be struck down if the claimants can prove they were willfully discriminatory. Justice Kavanaugh rejected this argument in his concurrence.
"We. . . reject Alabama's argument that §2 as applied to redistricting is unconstitutional under the Fifteenth Amendment. According to Alabama, that Amendment permits Congress to legislate against only purposeful discrimination by States. But we held over 40 years ago "that, even if §1 of the [Fifteenth] Amendment prohibits only purposeful discrimination, the prior decisions of this Court foreclose any argument that Congress may not, pursuant to §2 [of the Fifteenth Amendment] outlaw voting practices that are discriminatory in effect."
Essentially, while the Fifteenth Amendment may or may not cover only blatant and stated racism, the court has repeatedly found that Congress may pass laws like the Civil Rights Act to counter the effects of discriminatory districts, intentional or not. This leaves Section 2 of the CRA in place and offers far more hope for minorities fighting gerrymandering.
With Allen decided, a slew of similar cases will not proceed. These include two from Texas, League of United Latin American Citizens v. Abbott and Petteway v. Galveston County. Both cases claim that new maps were drawn to specifically disempower minorities, and both were on hold while the Supreme Court decided Allen.
The two cases will likely go to trial now in district court. While anything can happen, the decision from the Supreme Court leaves little doubt on how the court will ultimately rule on Section 2 questions.
That said, with the 2024 primaries and general election looming, it is unlikely that a trial could conclude in time to redraw more fair and equitable maps before the next election. Texas Republicans defending the maps have many opportunities to run out the clock and perhaps hold power through the next cycle.
Still, the unexpected defense of Section 2 throws a wrench in Southern states' racially discriminatory maps and offers hope to advocacy groups. For now, it looks like the Civil Rights Act is not quite as dead as previously reported.