After Republicans unveiled their first draft of new district lines for the Texas congressional districts on Monday, Congressional members on both sides of the aisle have largely avoided reacting publicly. While reelection is nearly always top of mind for a politician, this week in the U.S. House is expected to be one of the most pivotal for the Biden administration with deadlines facing the reconciliation economic package and the infrastructure bill.
The Texas Tribune is reporting the Republican Texas Congressional delegation unanimously approved the map proposed by Sen. Joan Huffman (R-Houston), which shores up Republican incumbents and adds Texas' two new districts to Houston and Austin.
Some Democrats have been drawn out of their districts. For example, Rep. Sheila Jackson Lee (TX-18) is now in a redrawn district along with Rep. Al Green (TX-9).
Other Democrats' districts have become bluer, which opens up the chance for primary challenges. The two U.S. House districts that flipped in the 2018 midterm elections when Beto ran at the top of the ticket, Lizzie Fletcher (TX-7) of Houston and Collin Allred (TX-32) of Dallas, have become Democratic vote sinks with their Biden 2020 margins over 30 percentage points under proposed maps.
Democrat members of the Texas Legislature tweeted reactions to the maps.
Meanwhile, voting rights advocates and Democratic-aligned groups have all lambasted the maps for diluting minorities' voting strength and partisan gerrymandering.
Rep. Lloyd Doggett (TX-35), the lone Democrat of the Austin congressional delegation, also commented on the new map.
Democrat Rep. Joaquin Castro (TX-20) of San Antonio argued the maps decreased minority representation despite the majority of the population growth of the last decade coming from racial minorities.
Dallas-Fort Worth Rep. Marc Veasey (TX-33), who successfully challenged his district lines during the last redistricting cycle, reacted to the new lines with a fundraising pitch to fight for minority representation.
Here's what TX-33 under the proposed maps looked like: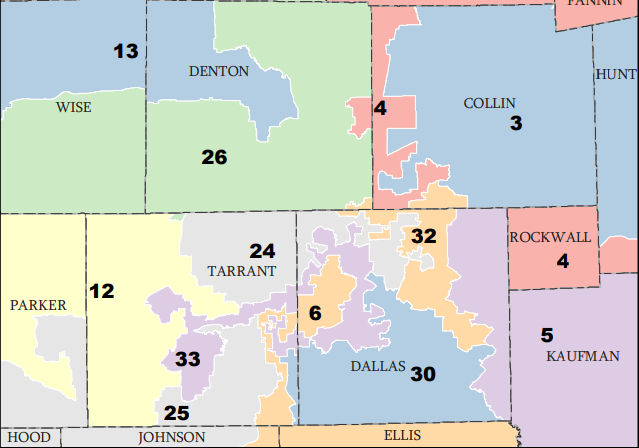 At the time of publication, not a single Republican legislator tweeted about the new maps. Expect to see more reactions later in the week when the Senate Redistricting Committee hears testimony on this map on Thursday.